50 Dinosaur Crafts & Activities
My child loves dinosaur crafts. In fact, I think most kids are enchanted with dinosaurs! These prehistoric animals were large and powerful–no wonder kids are so completely fascinated!
Make these creatures come to life with these exciting crafts and activities!

Dinosaurs Crafts and Activities For Kids
Who doesn't love dinosaurs? They are awesome and are super popular right now. We broke up this big list of dinosaurs into the following sections:
Dinosaur Crafts
Dinosaur Activities
Dinosaur Games
Dinosaur Learning
Dinosaur Snacks
That should make it a little easier to help find what you need! Also with many of these you will need some simple crafting supplies like (This post contains affiliate links):
Dinosaur Crafts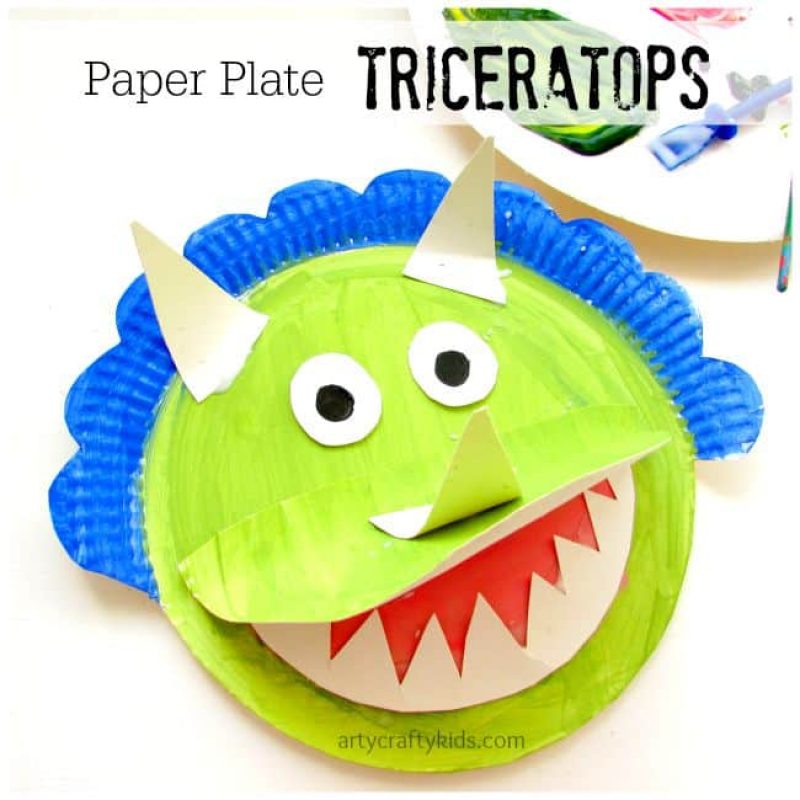 Triceratops Craft For Kids
Use this step by step tutorial to make a 3D triceratops craft! It is made from paper, paper plates, markers, and glue. Don't forget to add the horns and teeth! From Art Crafty Kids
Dino Hat Craft
Let your kids make this super cool dino hat craft. All you need is a green ball cap, felt, and a hot glue gun! From Laly Mom
Dino Feet
Have a full dinosaur day! Watch ice age, eat some dinosaur snacks, and make some of these awesome dinosaur crafts like these green cardboard dino feet! They even have big paper claws! From Artsy Momma
Dinosaur Craft Preschool Kids Can Do
Making a dinosaur doesn't have to be hard. Here is a dinosaur craft preschool kids can do. All you need is construction paper, scissors, glue googly eyes, and green finger paints. Your child may need some help cutting out the silhouette of the dinosaur. From Fun Handprint Art Blog
Stick Dinosaur Puzzle
Make a super easy stick dinosaur puzzle using mod podge, popsicle sticks, and a printed image of a dinosaur! It's so easy to make and even more fun to play with. From Artsy Momma
Rideable Dinosaur
I love this so much! Make a rideable dinosaur for your little one! It's essentially a dinosaur hobby horse, but what a great way to get your child moving and engaging in pretend play. From Adventure In A Box
Dinosaur Necklace
Make a Dinosaur Necklace with your kids! Use dinosaur shaped pasta noodles to make a fun kids necklace.
Dinosaur Clothespin Craft
Clothespin Dinosaurs craft are easy to do! And these are amazing! Make your own little dinos with felt and clothespins. From Crafts by Amanda
Salt Dough Dinosaur Fossils
Make Fossils! All you need is flour, salt and water and you can make your own fossils! After you're done, take them outside and go on a fossil hunt. From Kids Activities Blog
How To Make Dinosaur Feet
Dinosaur Feet! Use this fun craft to turn your feet into dino feet! From Rainy Day Mum
Dinosaur Shirts
Grab some plain shirts, fabric paints (or markers) and some dinosaur stencils! Making dinosaur shirts is super easy! From 3 Dinosaurs
Salt Dough Fossils
Whip up some salt dough and then grab your dinosaurs, seashells, and other toys to print images on the dough and then bake it to make your own fossils. From Teaching Mama
Dinosaur Activities
Dinosaur Play Doh
Dinosaurs and play doh? Um, yes please! Let your dinosaur leave footprints in the play doh, make them a home, build their habitat. This is such a fun dinosaur activity! From Fantastic Fun and Learning
Dinosaur Pretend Play
Embrace pretend play with this fun dinosaur activity. Create a fun activity box using a sand box, flora, water, and shovels. Oh, don't forget the dinosaur toys! From Emma Owl
Dinosaur Eggs For Kids
Stay cool this summer playing with these dinosaur eggs for kids. The dinosaurs are frozen in these eggs made from ice! Add water and hammer away to get them free! From Teaching Mama
Dinosaur Footprints
Grab your dinosaurs, paint, paper, and playdough, and start making dinosaur footprints! This is a fun activity and great for toddlers and preschool kids. From 3 Dinosaurs
Dinosaur Bath
Have a fun dinosaur bath! Add plastic dinosaurs, bath tub paint, and paint brushes! It is so much fun. From Emma Owl
Dinosaur Sticky Wall
Have smaller kids? Then this dinosaur sticky wall is a perfect dinosaur activity! All you need is some sticky paper and some paper dinosaur cutouts! From In The Playroom
Dinosaur Sensory Bin
Let your dinosaur toys stomp through the "mud". Well… not exactly mud, but chocolate pudding! This is a great dinosaur sensory bin for kids who still are sticking fingers in their mouths. From Best Toys 4 Toddlers
Dino Dig
Dino Dig is a great way to spend time at the beach. Create your own miniature dino dig with some sand and toy figurines. From Kids Activities Blog
Dinosaur Birthday Party Ideas
Dino Themed Birthday Party – Here are lots of great tips and ideas for a dinosaur themed birthday bash. From Kids Activities Blog
Dinosaur Garden
Did you know you can grow your own dinosaur garden? It's so cool! It even has its own volcano that lights up! From Kids Activities Blog
Dinosaur Sensory Play
Make homemade snow and let your plastic dinosaurs play and frolic in it! This would be a great way to stay cool in the summer. From Kids Creative Chaos
Dinosaur Home
Grab your playdough, a tray, and some other small items to create an ecosystem for your dinosaurs. From In The Playroom
Dinosaur Habitat
Make a dinosaur habitat out of recycled items! I love projects that let you recycle, they are the best. From Sunny Day Family
Dinosaur Games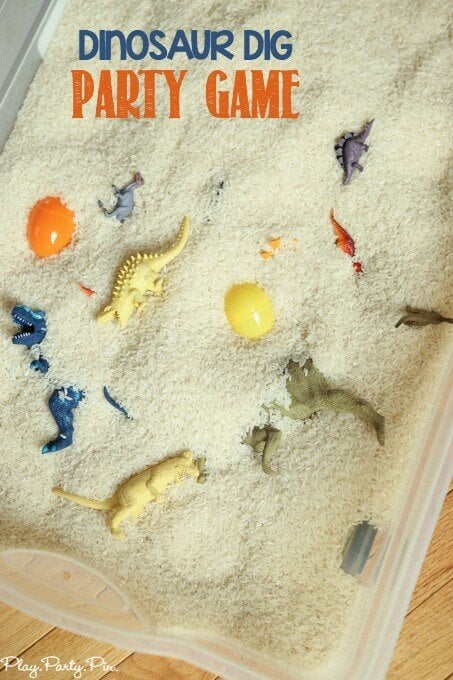 Dinosaur Games For Kids
Break out the shovels and start digging for dinosaurs in this fun sensory bin! Find the different types of dinosaurs and even the dinosaur eggs! From Play Party Plan
Dinosaur Surprise Eggs
How fun are these dinosaur surprise eggs? Hide the plastic dinosaur in balls of playdough. Then have your child match the colors of the dinosaurs to the color sight words. What a fun color matching game! From School Times Snippets
Dinosaur Dig
This is so cool! Bury plastic dinosaur skeletons in plaster to create a big plaster stone. Then give your child some safety gear, hammer, and paintbrushes to dig the dinosaur fossils out! From Joyfully Weary
Sensory Motor Scavenger Hunt
This is a simple but fun dinosaur game that also doubles as a sensory activity. Your child will have to dig through the sand to find the dinosaur stickers at the bottom. Will they be able to find them all? From Best Toys 4 Toddlers
Dinosaur Break Out
Dinosaur Break Out is so much fun! Freeze small dinosaur figurines in ice for your kids to break open with small tools or warm water. From Kids Activities Blog
Frozen Dinosaur Dig
Rescue the Dinosaurs! Freeze dino figurines in ice and dig them out for a fun activity. From Happy Hooligans
Dinosaur Printables
Dinosaur Zentangle
Zentangles are great for bigger kids and adults and this dinosaur zentangle is no different! From Kids Activities Blog
Dinosaur Thematic Unit
Teaching your child about dinosaurs? Then you'll definitely want to check out these resources and dinosaur printables. From Mama of Many Blessings
How To Draw A Dinosaur
Learn how to draw a dinosaur with this step by step printable. You can draw the smallest and cutest t-rex! From Kids Activities Blog
Montessori Dinosaur Unit
These Montessori dinosaur units are great for toddlers, preschoolers, and kindergarteners. There are puzzles, writing practice, pattern cards, math worksheets, and more! From 3 Dinosaurs
Baby Dinosaur Coloring Pages
Look how precious these baby dinosaur coloring pages are! I love them so much! Each of them are so cute! From Kids Activities Blog
Printable Dino Mask
Printable Dinosaur Masks can be so much fun. Pretend to be a dinosaur with these free printable masks. From Itsy Bitsy Fun
Printable Dinosaur Valentine Cards
Dinosaur Valentine cards are the best. Use this free printable to hand out some adorable dinosaur Valentine's to your friends. From Coffee Cups and Crayons
Dinosaur Doodle
These dinosaur coloring pages are great for smaller kids. They are pictures with bigger lines, so nothing really fine. From Kids Activities Blog
Dinosaur Counting Sheet
Teach your little one to count using these free dinosaur counting sheets. From Living Life and Learning
Dinosaur Learning
Dinosaur Fossils
Fossils are super cool! Scientists have found a number of dinosaur fossils, and now your kids can learn about dinosaurs and other fossils with these activities. Your child can be an archeologist! From Enchanted Homeschooling
Who Discovered The Dinosaurs
Your child can have hands on experience and learn about the scientists who found dinosaur bones. Plus, they can have experience what it is like to dig up dinosaur bones. From KC Edventures.
Volcanoes and Dinosaurs
Science meets play with this volcano science experiment and plastic dinosaurs! Your kids will love this! Who doesn't love making an exploding volcano! From Best Toys 4 Toddlers
The Best Dinosaur Drawing Books
Love dinosaurs and drawing? These 11 books can teach you how to draw a dinosaur easily. They look so realistic! From Brain Power Boy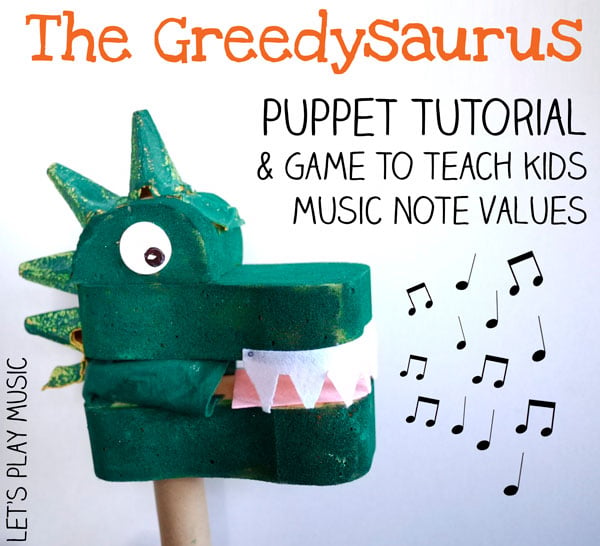 Greedysaurus
Learn about musical notes using this DIY Greedysaurus puppet! From Lets Play Kids Music
Dinosaur Activities Preschool Kids Can Do
Matching is a fun way to learn. Use dinosaur stickers and figurines and play this fun matching game. From Montessori Monday.
D Is For Dinosaur
Printables, dinosaur crafts, and more! This D is for dinosaur is the perfect lesson for your toddler, preschooler, or kindergartener! From A Little Pinch of Perfect
Dinosaur Snacks
Dinosaur Ice Cream
Dinosaur ice cream is fun and delicious! Dig through the chocolate ice cream to find the chocolate dinosaur bones! How cute is this?! From Laly Mom
Dinosaur Muffin Pan Meal
Make lunch awesome with this dinosaur muffin pan meal! Each part of the tray has something yummy like frozen yogurt dinosaur bones, dinosaur eggs, dinosaur teeth and more! Yum! From Eats Amazing
Edible Dinosaur Eggs
Edible dinosaurs eggs are super easy to make! All you need is kiwi. Don't forget about the dinosaur footprint sandwiches! From Eats Amazing
Dinosaur Cookies
Fossil Cookies, yum! These cookies look just like fossils! Kids love these and they'd be a hit at a birthday party! From Buggie and Jelly Bean
Looking For More Dinosaur Fun? We Have Got You Covered!
Watch this little girl melt your heart! Her reaction to the Good Dinosaur is precious.
Light up dinosaurs are exactly what your little one needs for bath time!
These dinosaur planters water themselves! Watch how they drink up the water!
Surprise your kids with a roaring good breakfast with this dinosaur waffle maker.
Make breakfast special with this dinosaur egg oatmeal!
Take a look at this dinosaur map to see where the dinosaurs lived.
This 12 year old boy discovered a rare dinosaur fossil. How cool is that?
These inflatable dino blasters are a great way to stay cool in the summer!