Learning sight words is an essential reading skill and it doesn't have to be learned through boring repetition. Let's have some fun with sight words through sight word activities, sight word games, sight word worksheets and other ways to practice sight words that will have preschoolers, Kindergartners, 1st and 2nd graders playing with sight words!
How to Teach Sight Words
We have found 100 sight words activities that can be really helpful for kids learning to read in a creative way. Learning sight words helps kids learn to read faster by being able to identify frequently used words without having to sound them out.
Whether you are using these sight word practice activities in the classroom, homeschool or at home for reading practice, they are sure to speed learning and entice giggles.
What is a Sight Word?
A sight word is any word that is recognized instantly and effortlessly, by sight, whether it is spelled regularly or irregularly.

–Ohio Education, Teaching Sight Words According to Science
Why are Sight Word Activities So Important?
Sight word vocabulary is NOT based on visual memory…visual skills!

-Dr. David Kilpatrick, Plain Talk About Learning Conference 2018
Best Sight Words Activities for reading skills
We have put together over 100 sight words activities for new readers that your young kids will love because they are so much fun, they don't feel like learning!
That means the more play kids can have with sight words, the more sight word skills they will pick up. That is why we have found fun sight word activities for:
Let's have some sight word fun!
Holiday Sight Words Activities & Games
Halloween Sight Word Games & Activities
1. Halloween Sight Words
Try this Halloween sight word game for a fun way to learn and celebrate Halloween with fun Halloween sight words.
2. Halloween Play On Words
Celebrate Halloween with more sight words! You'll love these free printable Halloween sight word games. All you need is markers, Lego miniatures, or pumpkin seeds.
Day of the Dead Sight Word Activities
3. Day of the Dead Sight Word Worksheet
Our Day of the Dead vocabulary worksheets teach sight words in a fun and festive way!
Fall Sight Word Worksheets & Games
3. Fall Sight Word Worksheet
Celebrate fall and learn with this free fall sight words worksheet from the Measured Mom. It is a fun game that requires two students to take turns rolling a die, find the number, and then read each sight word. Keep up with the points by coloring or stamping the different circles. Whoever has the most circles wins!
4. Sight Word Smash
Making learning reading fun by playing this super fun (and messy) sight word smash game! Hide dollops of shaving cream underneath the laminated pumpkins and when you call out a work let them smash the pumpkin! You could make this more fun and little more sweet and use whipped cream as well.
Valentines Sight Word Worksheets
5. Valentine's Day Sight Word Find Worksheet
Looking for some Valentine's Day worksheets? These preprimer and Kindergarten Valentine's Day Sight Word Find Worksheets are perfect! Trace each word and stamp each heart with the correct sight word.
St Patricks Day Sight Word Activities
6. St. Patrick's Day Words
These flashcards are a great way to learn St. Patrick's Day words as well as other sight words. Each sight word flashcard has a picture of the word on it which helps reinforce each Dolch word.
Easter Sight Word Games
7. Easter Jelly Bean Numbers & Sight Words
Have extra plastic eggs from Easter? Perfect! You can use them, along with these printables, to teach your child numbers as well as sight words (link currently unavailable). Your child will love these festive Easter sight word pages.
Thanksgiving Sight Word Activities
8. Thanksgiving Sight Words
Looking for some educational Thanksgiving activities? This Feed the Turkey sight words is a great way to keep your kids busy and a great way to teach Thanksgiving sight words.
Christmas Sight Word Flash Cards
9. Free Printable Christmas Sight Words
How cute! I love these Elf on the Shelf flash cards. These free printable Christmas Sight words are perfect for the holidays and each card has a picture to help reinforce the sight word.
Sight Words Activities To Do Outside
Sight Word Games with Balls
10. Ball Sight Word Game
With this ball sight word game, you can write sight words on a large beach ball and practice by tossing the ball and reading a word. Not only will your child be learning about sight words, but it is a fun kinetic game as well.
11. Sight Word Games For Kids
Using balls to learn sight words is a fun and cheap way to not only learn, but get your child moving. This is a perfect sight words game for the spring and summer!
12. Sight Word Ball Games
Another fun ball game gets kiddos active with a sight word basketball game. Dribble the ball around the different sight words on the ground. It's a fun way to learn and move!
Sight Word Activities Inspired by Super Heros
13. Superhero Sight Words
Be super with these superhero sight words! Dress up in your superhero Halloween costumes and then choose active Dolch sight words like: look, jump, away, down, etc. Match them up and do them!
Sight Word Scavenger Hunt
14. Sight Words Treasure Hunt
Who doesn't love a treasure hunt? Make learning sight words fun by dressing up like a pirate and using a map to find the treasure! The treasure of course are small cups of deliciously wrapped chocolate! This Sight Word treasure hunt is also a great way to teach your child about map reading and getting them outside.
15. Drive To The Sight Word
Since most of us have been spending quite a bit of time at home, here are some great sight word games at home. The best part is, you get out of the house and into the sun! Drive a remote controlled car to each of the sight words. Call out the words and let them zig and zag their toy cars to it!
16. Summer Sight Words
Your kids will love this summer sight words game: Sight Word Stomp! This is a perfect game for preschoolers and kindergarten kids. It not only teaches phonics and sight words, but also gets your kids moving around!
17. Sight Word Hose Design
Use your garden hose to allow your child to design a shape around the sight words you have written on the sidewalk. You can also loop the house around different words and call out the words and have your child find which loop it is in as well.
DIY Sight Words Games with Toys
18. Sight Words For 2 Year Olds
Make sight word cards and pair them with small toys to make sentences. These are perfect sight words for 2 year olds and up.
19. Drag Racing Games
Once they have started to master the words, have them play this fun drag race game. You label each car with a different sight word and then you drag race them down the ramp! it is a fun way to learn.
20. Sight Words Flash Cards
Work on math words like same, less and than. This comes with a free printable. Mix up the sight words flash cards with different objects for a fun twist.
21. Erudition
This fun game called Erudition is an easy way to teach sight words. It has over 280 different sight words to learn and is just like a regular board game.
22. Car And Truck Sight Word Games
Race around to learn to read! This game is so much fun and one of my favorites in our 100 sight word activity list. This is a hands-on sight word game that has you driving to each word and trying to find all the different sight words.
23. Dinosaur Sight Word Game
Dinosaurs! Dinosaurs are the best! Well, your little one will love playing with dinosaurs in this sight word game. Use different sight words to describe different dinosaurs and then let them find the different dinosaurs that are described by that word.
24. Word Building Activity
This cute sight word activity is super cute, but does require some work. Make your own sight word sheets. The top should have the words and the bottom half should have 3 pictures. You will then use small toys like toy animals, cars, or Legos to put on the correct image.
25. Magnetic Sight Words
You can make your own magnetic board with truck magnets for fun and easy sight word learning! These truck magnets are an easy way to play and learn at the same time.
26. Sight Word Snacks
Make snacks! Use alphabet cookie cutters to bake cookies that your kids can use to spell out sight words. You could also use these cookie cutters to make your kid a super educational lunch or breakfast too. Sandwiches and pancakes are easy to cut and who says you shouldn't play with your food?
27. Bananagrams Sight Words
Have some early literacy fun with this neat sight word activity involving Bananagrams. Use the tokens and sort them into different piles and then work on letters and sight words!
Sight Word Printables
Printable Sight Word Worksheets
28. Unicorn Sight Word Worksheet
These sight word coloring pages are themed with the cutest unicorn ever!
29. Rainbow Words Worksheet
This rainbows sight words worksheet is fun to fill out and then color all the colors of the rainbow!
30. Shark Themed Sight Word Worksheets for Kids
These free printable Shark sight word worksheets are fun everyday or especially fun during Shark Week.
Or check out these adorable Baby Shark sight word worksheets you can download & print.
28. Printable Sight Word Worksheets
With these sight word worksheets you will find 10 pages that include 52 words. These sight word pages include: writing, color by letter, trace the sight words, and find the sight words.
29. Free Printable Sight Word Worksheets
Looking for more romping and roaring worksheets? Here is set 11 of the worksheets. This set includes 6 pages of fun sight words activities and sight work practice. There are even worksheets that let your little one practice their fine motor skills.
30. Color By Sight Word
Learn words and work on motor skills at the same time with these printables! Learn sight words while coloring each word and then use each sheet as a card so your little one can practice over and over again!
31. Word Evaluation
Use these printables and cards to do a sight word evaluation for your child. These free printable kindergarten sight words is a great way to see where your child is at reading wise and what they still need to learn.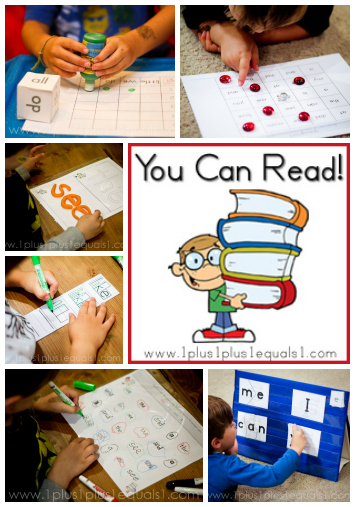 32. You Can Read Sight Words
Check out these printables and laminate them for repeated practice learning sight words. Connect the dot, make a sight word puzzle, mixed up fonts, and more! These sight word activities are perfect for making learning fun.
33. Sight Words Writing Worksheets
Learn sight words by writing and stamping out the letters to spell out each word. It is a fun twist on traditional learning and if you want to reuse the pages then laminate them and use plastic letters to spell out each word rather than stamping them out.
34. Free Sight Word Worksheets
These first grade sight word worksheets are a perfect way to teach your child to recognize words and to read. There are so many different sight word worksheets available: playdough mats, stamp sheets, word trace, color by sight word pages, and more!
35. Free Printable Kindergarten Sight Words
While this is technically a sight words game, it is a free printable. This free printable kindergarten sight words game comes with everything you need, well almost. It comes with cards, directions, a spinner, and a board. All you need is little Lego tokens and a pin to hold the spinner together.
36. Free Color By Sight Word Worksheets
These free color by sight word worksheets covers 52 different sight words. Each page is a color by letter page and has the guide at the bottom. So, these worksheets also double as a color learning page too. How fun!
37. Tracing Sight Words Printables
What better way to learn new words than tracing sight words? This sight word trace and find is a fun printable that teaches 52 different sight words on 8 different work sheets. Make sure you have a way to mark the dots may it be with coloring utensils, dot markers, or transparent bingo chips.
38. Printable Sight Words For Toddlers
Looking for sight words printables for your toddler or preschooler? Look no further! Here are 8 pages of coloring, marking, tracing, and more to making teaching sight words easy!
39. Printable Sight Word Worksheets For Kids
Looking for printable sight word worksheets for kids? Here are worksheets for preprimer, primer, first grade, second grade, and third grade. They are winter-themed and have snowflakes to dot and color.
40. Spin And Write Sight Words
This sight words printable is super cute and a lot of fun, and not only teaches sight words, but colors as well, and it works on fine motor skills. All you need spin and write sight words game is some crayons and a paper clip and you're ready to go.
41. Free Printable Sight Words Game
This free dodecahedron sight word game is perfect for kids in Pre-K and Kindergarten. Once you print off the 8 pages and put the dodecahedrons together your kids will roll the dice and race the sight word cars to the end of the finish line!
Printable Sight Word Flash Cards
42. Farm Themed Sight Word Cards
Print off these farm themed sight words cards to help your child memorize sight words. Each card is farm themed and has a picture on it to help reinforce each word.
Printable Sight Word Books
43. Free Printable Sight Word Books
Check out these early reading printable sight word books. They are perfect for Kindergarten kids! There are 2 different books with so many different sight word worksheets to do!
44. More Free Printable Sight Word Books
Looking for free printable Kindergarten sight words? This super cute sight word easy reader is perfect! It has practice sheets, matching games, reading practice and more.
Dolch Sight Words Worksheets
Printable Dolch Sight Words Worksheet
45. Printable Dolch Site Words
There first grade sight words worksheets are perfect to learn 10 sight words. These Dolch Sight Words Worksheets include: matching, instructions on how to use each sight word, coloring pages, flash cards, and handwriting practice.
Printable Dolch Sight Word Flash Cards
46. Dolch Sight Word Worksheets And Flashcards
Learn 10 more sight words with these Dolch sight word worksheets and flashcards. This set includes 5 different worksheets that not only teaches new words, but also works on fine motor skills as well.
47. Dolch Primer Sight Words
Look how fun! Print off these Dolch Primer Sight Word worksheets, laminate them, and use these sight word worksheets to not only work on fine motor skills by writing the words, and copying the sight words with playdough.
48. Easy Sight Word Worksheets
Check out these free Dolch sight word cards that includes a guide that helps put together a sight word card ring. With these printables you will find 8 cards per page and over 200 Dolch sight words.
49. More Dolch Sight Word Printable Pages
We found even more Dolch sight word worksheets for you to use! These are actually 3rd grade sight word worksheets. The best part is, there are resources provided to help reinforce these sight words as well, beyond just the worksheets.
50. Dolch Word Flashcards
Flashcards are such a great way to learn sight words. Plus, if you laminate them you can use them over and over without them getting worn out. Put them on a ring or keep them in a deck, flashcards are a fun and easy way to learn sight words.
51. Dolch Sight Word Printables
Take a gander at these sight word worksheets! They are a hit! Many people enjoy these pre-primer reading help sheets and cards. If your child struggles learning words and letters, these worksheets are perfect!
52. Dolch Primer Sight Words
These Dolch primer sight words will teach your child 52 different sight words and has wall cards that start with each letter of the alphabet. There are 10 pages in all.
53. Dolch Sight Word Printable Worksheets
Here is week 13 of this Dolch sight words set. It has 8 more pages of words for your child to learn to recognize. This sight words set is perfect for preschoolers through first graders.
54. First 100 Sight Words
Learning about phonics is important when teaching your child to read, however, there are times those rules do not apply and that is where sight words come into play. Here are worksheets and flashcards with the first 100 sight words on them! Perfect for preschoolers, kindergarteners, and even first graders.
55. 2nd Grade Sight Words Worksheets
Need sight word worksheets for older students? These Dolch sight words grade 2 worksheets are perfect for teaching older kids. This pack comes with flash cards, handwriting practice, matching sight word games, instructions, and even coloring pages!
56. Free First Grade Sight Words
More sight words for older kids! These free first grade sight word worksheets are a great way to reinforce words and help your child learn to read. Help them get the head start they need!
57. Dolch Pre-Primer Words Worksheets
These Dolch pre-primer words worksheets are perfect for smaller kids like preschoolers. These can even be used as sight words for toddlers as well. There are different worksheets that include fine motor skill practice.
58. Dolch Sight Words Free Worksheets
We have found another pre-primer sight words set that is perfect for toddlers and preschoolers. These Dolch sight words free worksheets are also perfect for practicing fine motor skills!
59. Dolch Sight Words Worksheets For Primer And First Grade
Here are some free sight word worksheets for kindergarten students and 1st grade sight words worksheets. They not only provide word reinforcing and are a great way to help your child read, but also provide fine motor skills, and coloring making these worksheets a lot of fun.
60. Sight Words List
Looking for a complete sight words list? We have found complete Dolch sight words list for: pre-primer, primer, first grade, second grade, third grade, and nouns. That is all 220 words and nearly 100 nouns! The best part is, these Dolch sight words lists are printable.
61. Dolch Preprimer Coloring Bookmarks
Print off these Dolch preprimer coloring bookmarks and have fun coloring while learning. Each bookmark has a different Dolch sight word on it that your child can color anyway they want. There are 40 sight words so you can pick and choose a sight word everyday.
62. Printable Sight Words List
Check out this printable sight words list from both Dolch and Fry. Each list is broken up by each letter of the alphabet and covers 200 sight words (or high frequency words) from each word list.
63. Free Printable Kindergarten Sight Word Worksheets
Get the crayons and scissors ready for these free printable Kindergarten sight word worksheets! This sight word set has coloring sheets, matching games, flash cards, and more!
Free Sight Word Games
Easy Sight Word Games
64. Sight Word Activities For Kindergarten Kids
Looking for more ways to teach sight words for toddlers, preschool sight words, and kindergarteners? Here are 20 fun ways to teach sight words.
65. Sight Word Snowball Toss Game
This is perfect if it is cold outside (with no snow), or even in the summer when it is hot. Plus, you can pair it up with the book Snowball Fight! By Jimmy Fallon. Make your own sight word snowball toss game using tape and socks!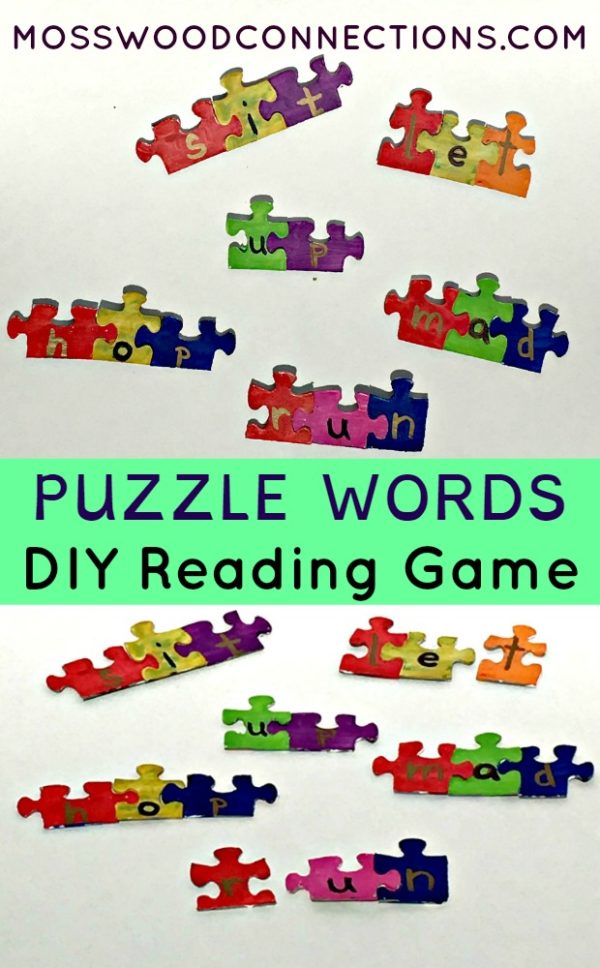 66. Sight Word Puzzles
Make learning sight word learning fun with this sight word puzzle. These puzzle words can also double as a sight word craft as it does require the puzzle pieces to be painted and the letters written on each piece.
67. School Bus Game
Learn your numbers, vowels, and sight words using this super cute school bus printable and sticky notes. It is simple and fun. Learn words, make sentences, and learn to read!
68. Pebbles Phonics Learning
Learn sight words using pebbles and then use the words on these pebbles to make sentences. This is an easy learning game that you can use over and over again!
69. Sight Words Rhyming Game
I love resources that provide multiple lessons in one. Learn sight words while rhyming! There are four different levels to play that includes a "Mix it up" game, a sight word matching game, and then a sight word "guess who game", as well as a blackout rhyming game.
70. Rainbow Roll & Write Sight Words
Work on colors, numbers, spelling, motor skills, and sight words all in one game! This free sight word printable is a fun game where you use dice to see what color you use to color in the letters. I think this is one of the more unique games in our 100 sight words activities list.
71. Minion Sight Words
Does your child love Minions? Mine is obsessed with them! Which is why they loved this Minion sight words game. it's simple. You create your own minions and letter cups out of Jell-O and pudding cups and let them pick up the cups to spell the words.
72. Fun Ways To Practice Sight Words
Want more fun sight word games? Here is a great list of different sight word games, activities, and crafts that your child will love!
73. Sight Word Matching Game
Who doesn't love matching games? This Sight word matching game will teach your child new Dolch preprimer sight words that will have them ready to read in no time! What a fun way to reinforce words.
74. Hands-On Sight Word Games
Looking for some hands on literacy games? These hands-on sight word games is a great way to learn letters, learn words, learn the syllables of each words, and to learn to spell.
75. Baby Sight Words Game
Sometimes worksheets are too much for toddlers and babies. Sometimes they need something a little easier and a little more stimulating. This sight words game is the perfect thing! Squishing sight words! Each ball has a sight word written on it and then you will use toy hammers, feet, or hands to squish the right word!
76. Guess The Word Game
This game is a clever twist on the classic game Guess Who. This Guess The Word game is a fun way to learn Dolch sight words from pre-primer all the way to the 3rd grade.
77. Spelling Games For Kids
Want fun spelling games for kids? These 12 interactive spelling games are a great way to teach sight words at home. You can download and print all of these fun Word Bump spelling games.
78. Sight Word Games
Are you needing more sight word games for your classroom? Then these fun twist on traditional games are right up your alley! Turn Candyland into a fun word game or this fun Oh No! Sight words game (link currently unavailable).
79. Sight Word Matching Game
Looking for a sight word game inspired by a popular children's book? This fun sight word matching game is inspired by The Runaway Bunny by Margaret Wise Brown.
80. Sight Word Matching
This sight word matching is inspired by If You Give A Pig A Party by Laura Numeroff. You will use party hats in this sight word matching game, and each party has a sight word written on it. Your child will then need to match each sight word. You can make the game a little more challenging by having your child read each word aloud.
81. Sight Word Games For Kids
Bust out your crafting supplies! For these fun sight word games for kids you will need pipe cleaners and beads with letters. Using a sight word list (you can find multiple lists lower), let your child spell out the words with beads and thread them through pipe cleaners. Not only is this a great learning lesson, but it is also a great fine motor skill activity as well.
82. Sight Word Shoot
Nerf guns are the best! I don't care how old you are, you are never too old to play with nerf guns, which is why I love this sight words game. You tape sight words to cardboard blocks and then have someone call out the sight word. Once your child finds the correct sight word they will shoot the block with their nerf gun!
83. Apple Sight Words Game
This is a cute sight word game that also gets you outside. Print off some apple cards and write sight words on them and hang them on a tree. Call out each sight word and then let your child "pick and apple" from the tree.
84. Sight Words Bottle Cap Games For Kids
Recycle plastic bottle lids with this sight words bottle cap game for kids. All you need is: bottle caps, a black permanent marker, and a sight word list (you can find a few in the printable section of this post). Write the sight word on one side, and point on the other, and when your child picks the right word they get to add up their points to see who wins!
85. Battle Words
This is the coolest game! This sight words game is based on the Sink The Ship game where you have to find the enemies ship and sing them, except you use coordinates to find out which square each word is on. The more you get the more treasure you get!
86. Sight Word Tic Tac Toe
Classic games like Tic Tac Toe are always fun to play. That is why I love this modified version of it. Choose a sight word for your child, and choose one for yourself, and instead of X's and O's you will use these sight words on the Tic Tac Toe board.
Fun Sight Word Activities
Sight Word Crafts & Art Projects
87. Sight Words Made Out Of Crayons
Make learning fun by learning sight words with crayons! This is actually super cool an easy! Use stickers on paper to spell out words and then use a white piece of paper over it and color, gently, with crayons to see words appear!
88. Sight Word Tree
This is such a cute fall learning project! Learn sight words by making a sight word tree. Plus, you get to get messy by finger paining leaves! Paint them green, red, orange, gold, and be sure to add words on each leaf and stick them on the branches of your tree.
89. Preschool Sight Words
Are you looking for clever ways to teach your little one preschool sight words? Want to reinforce not only sight words, but letters and numbers as well? Then these hands on literacy games are just what you're looking for.
90. Hop On Pop Activities For Preschool
This is a cute reading activity that also teaches words using a fun activity. Learn sight words, rhyming words, and enjoy a story! This activity is perfect for preschoolers and kindergarten children.
91. Roll and Read Sight Words
This is such a clever way to teach and recycle! I love when I find new ways to go green. All you need is markers, a toilet paper roll, a wrapping paper roll, and some paper! Then you twist the rolls to make different words and write them down. This roll and read sight words activity is such a cute way to learn new words.
92. Sight Word Activities On The Go
Need peace on a car trip? These sight word activities on the go are perfect! Try out the alphabet scavenger hunt and sight word hunt to not only learn, but to get some quiet too.
93. Rainbow Words
This rainbow words activity are a great way to learn sight words! All you need is construction paper, scissors, a glue stick, markers, and a favorite book you don't have a problem marking in.
94. Blowing Down Sight Words
Looking for more learning sight words games? This blowing down sight words is perfect! Use party favors on these jumbo cardboard blocks! It is a fun way to not only learn sight words, but letters as well.
95. Hide And Seek Sight Words
Looking for mess free sight word activities? This hide and seek sight words game is a fun way to learn sight words by uncovering them! Move the paint in the plastic baggie and mark off the words when you find them.
96. Eat Your Words Cookies
Your kids will love this sight words activity! This eat your words cookies game is delicious and fun! Spell out sight words using Trader Joe's Schoolbook Cookies. Once you spell all the words on your list, then munch away on the yummy cookies.
97. Hands-on Reading And Writing Activities
You won't bee-lieve how fun this reading and writing activity is. I think this is such a cute sight words activity. You have paper bees, each with a word on it, and when you call out the word the player has to swat it with a fly swatter. There is also an alternative to the game where you spell each sight word in the salt using a paintbrush.
98. Roll And Write Game
Looking for another sight words game? This roll and write game is perfect for kindergarten kids and first graders. The one who writes AND reads all the sight words on the paper first wins. Sounds simple, but this game also involves math and team work as well.
99. DIY Sight Word Find Worksheet
These DIY sight word find worksheets are perfect for learning. They work on reinforcing words of course, but this is also very good for problem solving. All you need is some graphing paper.
100. Color By Sight Word Worksheets
This color by sight word worksheet is based around the story The Hungry Caterpillar, the solar system, and some free printable sight word books.
101. Make Your Own Sight Word Puzzles
Looking for an activity to make sight words more exciting? Then you'll love these sight word puzzles you can make yourself! Print out the sight word flashcards and have your little one color each card different colors, then cut each word into strips and see if your child can put them back together! This is also a fun color learning activity as well.
102. Sight Word Scavenger Hunt
Make learning sight words exciting, by turning it into a sight words scavenger hunt! It doesn't require a lot of supplies, just markers, Post-It notes, and maybe a prize?
103. Kindergarten Popcorn Words
Turns out learning sight words can be tasty! This Kindergarten popcorn words activity is a delicious way to learn sight words. Print the sight word popcorn cards and then use popcorn to cover the appropriate words. If your child is too little for popcorn you could always use chips, crackers, yogurt melts, or M&M's.
104. Word Treasure
Learn sight words by going on a treasure hunt! Dig through the sand to find sight word doubloons and fill up the treasure chest! It's a fun way to not only learn sight words, but also promote pretend play by letting them dress up and pretend to be pirates! Arrr!
105. Word Paint Game
I love paint swatches, they're so versatile! They can be used for puzzles and learning! Turn these paint swatches into a sight word activity, by lining up the back swatch to the front swatch, both with words and letters written out.
106. Gross Motor Sight Words
Turns out you can teach your kids and keep them busy and entertained at the same time! Using masking tape let them spell out different sight words on the floor, let the trace them with pointers, roll sensory balls across them, and jump and dance around the sight words on the floor.
Sight Word Apps for Kids
Sight Word Online Games
107. Sight Words Online Games
Now learning sight words is easy! There are plenty of online games and apps where your child can learn sight words. Learn them playing whack-a-mole, doing mazes, and even spelling with ants.
Sight Word Educational App
108. Fun Sight Word Games For Kindergarten Online Free
Looking for an educational app to teach your child sight words? Look no further, Lola's ABC Party 2 is a fun way to not only learn letters, but teach them spelling sight words, and even read short sentences, and teaches reading comprehension as well.
Sensory Sight Words Learning Activities
Hands On Spelling Practice
109. Water Bead Spelling Practice
This is one of the cooler 100 sight words activities. It is learning sight words, spelling, and a sensory activity rolled up into 1. Hide letters in a batch of water beads for a fun sight word sensory activity. Once you find the letters take them out to spell out different sight words.
110. Sensory Spelling Cards
Learn sight words using this neat sight words sensory activity. Use cardboard to make sight word flashcards, however, instead of writing them out with markers, write them out using glue and salt.
Hands On Sight Word Practice
111. Digging For Sight Words
Digging for sight words is another fun sensory activity. Use gardening tools to dig up carrots that have sight words on them, and then match them with the coordinating sight word on your activity page! You could also switch out beans for other things like sand, lentils, rice, cereal, etc.
112. Dinosaur Writing Activities For Preschoolers
What better way to learn about sight words than with messy sensory play and dinosaurs! Use a plastic tray and make your own swamp goop and let your child write out their letters and different sight words. But watch out for the dinosaurs lurking nearby!
113. Fizzy Sight Words
Use plastic letters to spell out different sight words and then add science and fun! Add baking soda to each letter and then spray vinegar! It bubbles, fizzes, and you can even mix paint to make colorful bubbles! What a fun sensory sight word activity.
114. Salt Glue Sight Words
Write out sight words using glue and salt! This will create raised and textured words that feel rough to the touch. You can also add paint to them to make them super colorful as well.
Sight Word Lists by Letter of the Alphabet
We have created a big resource of sight word lists by letter of the alphabet and you can find them all here:
This article contains affiliate links.
Favorite Products that Help Kids Learn Sight Words
More Reading Resources from Kids Activities Blog
Which sight word activity was your child's favorite? Did you find that the continuous practice kids need for building sight words skills was helped by this big list of favorite ways to play with sight words?