There's nothing quite as special as a handmade Mother's Day gift! That's why we adore these DIY Mother's Day Gifts for Kids to Make that work for kids of all ages, even the younger kids like toddlers and preschoolers. From handprint cards to painted tea towels for mom, we have found the sweetest Mothers Day crafts that make handmade gifts to give your mother on Mother's Day.
Mothers Day Crafts For Kids
Looking for the perfect gift for mom? These DIY Mother's day gifts are what you are looking for! We have a perfect gift for any mom. Plus, these homemade gifts are fun to make.
Related: Mothers Day Crafts for Kids
And who wouldn't love these homemade Mother's day gifts. From perfume with essential oils, to snacks and sweets, relaxing gifts, keychains and more, they will make this special day amazing!
Mothers Day Arts and Crafts with Kids
1. Handprint Tulip Towels For Mother's Day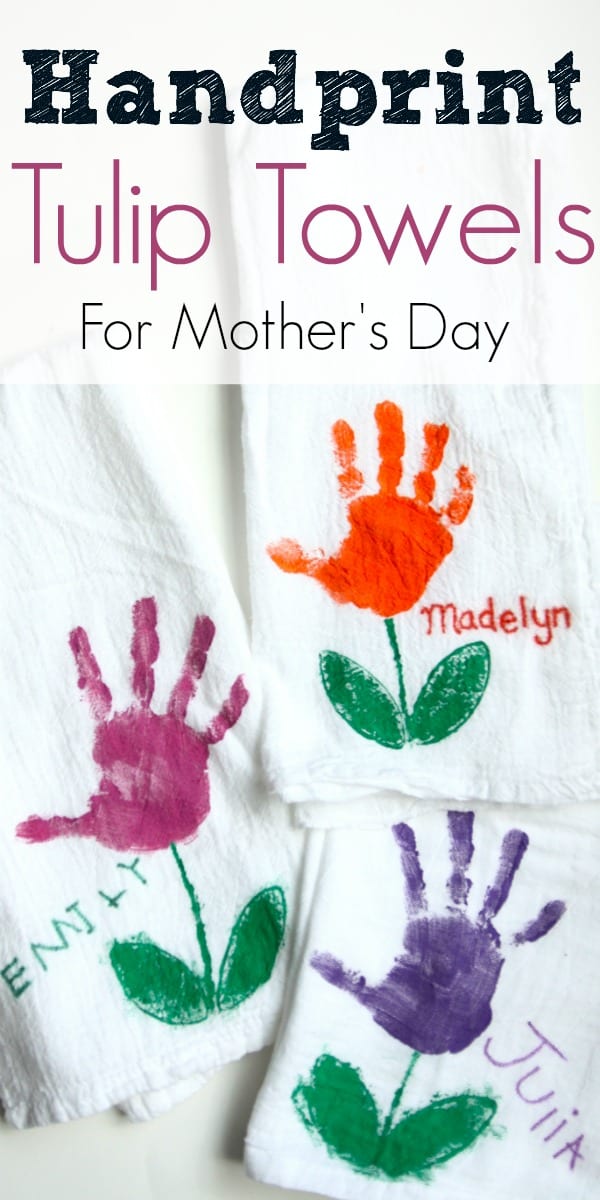 Any mom would love displaying these handprint tulip towels in her kitchen, from I Can Teach My Child.
Related: More handprint art ideas kids can make
2. Mother's Day Handprint Shrinky Dink Keychains
These handprint shrinky dink keychains are so colorful and fun via Crafty Morning. What a fun DIY project to make mom a cute gift.
Related: Make mom a Scrabble Tile keychain
3. Mother's Day Candy Holders
I just love how pretty I Heart Arts n Crafts' Mother's Day candle holders are! This is such a great gift idea.
4. Mother's Day Dandelion Gifts
Make dandelion art using Q-Tips via Crafty Morning. Wow, this is one of my favorite homemade mother's day gift ideas.
5. Heart Washi Tape Suncatcher Mother's Day Craft
How pretty are these Heart Washi Tape suncatchers from Kids Craft Room?! This is such a great gift idea.
Related: Make mom a washi tape heart
6. Mother's Day Pipe Cleaner Flowers DIY Gift
I just adore these pipe cleaner flowers that kids can make! You can use all of mom's favorite colors!
7. 5 Things I Love About Mom
You never know what kids will say on this 5 Things I Love About My Mom printable, from The Bird Feed NYC. This is the best handwritten note to make mom feel special.
Toddler DIY Gifts For Mom
8. DIY Sweet Mother's Day Card
Make a sweet Mother's Day card from recycled materials. This is one of my favorite mother's day ideas. It's simple and recycles!
Related: Make a homemade flower card for mom
9. Homemade Mother's Day Flowers From Cupcake Liners
Create flowers from cupcake liners for beautiful flower canvas art. What fun mother's day crafts that gives wonderful moms a sweet gift with a personal touch.
10. Mother's Day Suncatcher Card
How adorable is Learning and Exploring Through Play's suncatcher card?
Related: More suncatcher crafts kids can make
11. DIY Mother's Day Fingerprint Flowers Craft
Kids can help paint this fingerprint flowers craft. This is a simple craft and so much fun. Plus, mom will love it!
12. Mother's Day Fingerpaint Artwork
Even the littlest ones can make this fingerpaint Mother's Day artwork from Childcare Land. What special diy gifts!
13. Mother's Day Fingerprint Heart Keepsake Gifts
Messy Little Monster's fingerprint heart keepsake is a permanent reminder of just how little their hands once were.
Mothers Day DIY Gifts From School
14. Mother's Day Photo Blocks
Crafting Time Out's Mother's Day photo blocks are fun and easy for kids to make!
Related: Make a picture puzzle for mom
15. Heart Handprint Canvas Mother's Day Gift
Crafty Morning's Heart Handprint Canvas doesn't have to be just for grandma! This is a great diy present.
16. Mother's Day Printable Project
Looking for a diy mothers day gift? Learn what your kids really think with Happy Home Fairy's Mother's Day Printable Project!
17. Handprint Mason Jar Vase Mother's Day Gift
This handprint Mason jar vase, from Christina's Adventures, is so sweet!
 Easy Mothers Day Crafts For Younger Kids
18. DIY Mother's Day Photo Canvas Art
How sweet is Hora de Brincar e de Aprender's Mother's Day photo canvas art?
19. Mother's Day Painted Pots For Mom's Garden
What a gorgeous painted pot for Mom's garden! Loving this idea from Edventures. Say Happy Mother's day with these cute pots.
20. Do It Yourself Painted Plates Mother's Day Gifts
Moms will treasure these painted plates from Frugal Coupon Living for years to come.
Related: Make a mug for mom
21. Homemade Mother's Day Mommy/Child Necklace Set
I just adore this homemade mother/child necklace set from Mum in the Madhouse.
22. Portrait Of Mom Craft
Kids can draw a sweet portrait of their mom in this Mirror, Mirror Printable Craft from The Pinterested Parent.
23. DIY Magnetic Photo Frames For Mom
Moms can hang these magnetic photo frames from Denise's Yadda Yadda on the refrigerator for years to come!
24. Beautiful Painted Art For Mom
How beautiful is this painted Mom artwork? I love that kids can recreate this idea from The Educator's Spin on It themselves!
25. Homemade Clay Pendant Necklaces For Mother's Day
Older kids can make these clay pendant necklaces from Hello, Wonderful.
Mothers Day Crafts For Kids To Help Mom Relax
26. Homemade Mother's Day Photo Bookmark
Is mom a reader? Then you'll definitely want to make her this amazing photo bookmark!
27. Mother's Day Lavender Lotion Bars
Help mom moisturize and smell great with the relaxing smells of lavender. These lotion bars are cute and good for your health.
28. Handmade Glitter Candles For Mother's Day
What better way to relax than with beautiful and good smelling candles. These handmade glitter candles are perfect.
29. Amazing Mani/Pedi In A Jar For Mom
Let your mom relax with a mani/pedi! You can put all of her favorite things go in there like nail polish, nail files, cuticle oil, etc.
30. DIY Bath Salts For Mother's Day
Let mom take a relaxing bath with these great smelling DIY Bath Salts! They're so easy to make. These homemade bath salts are great!
31. Mother's Day Bath Fizzies Gift
Does mom not like bath salts? That's okay, you can make her some Bath Fizzies. These are like homemade bath bombs. Bath salts and bath bombs are such great ideas.
32. Mother's Day Crayon and Soy Candles Craft
You can make colorful soy wax candles for Mother's day. They're so pretty!
33. Cranberry Sugar Scrub Mother's Day Gift
This easy homemade cranberry sugar scrub is amazing to ensure your mom will be able to enjoy soft and smooth skin!
34. Mother's Day DIY Chocolate Lip Balm Gift
Does mom love chocolate? Use chap stick? Then this DIY Chocolate lip balm is amazing.
 DIY Gifts For Mom: Homemade Make UP
35. DIY Citrus Cuticle Cream Mother's Day Craft
Make your mom this amazing citrus cuticle cream. It smells good and is better than the stuff at the store.
36. Colorful Homemade Lipstick For Mom
Mom can enjoy all of her favorite color lipsticks and then some with these DIY crayon lipstick. Don't worry it's safe.
37. DIY Tinted Lip Balm For Mom
This 5-minute DIY tinted lip balm is great for Mother's day! It's colorful and keeps your lips moisturize
38. Mother's Day Lavender Vanilla Lip Scrub Gift
Dry lips? Give mom this amazing lavender vanilla lip scrub before giving her the tinted lip balm or colorful lipsticks.
39. Edible Chapstick Mother's Day Gift
Give your mom this moisturizing gift! This edible chapstick is an amazing gift for Mother's day.
40. Sugar Cookie Homemade Foot Scrub For Mom
Does mom have dry feet? Then she will love this sugar cookie homemade foot scrub!
Mothers Day Gifts From Kids: Tasty Treats
41. Delicious Buckeyes Candy For Mother's Day
Does your mother love peanut butter and chocolate? Then make her some of these delicious buckeyes candy!
42. Sweet Homemade Peppermint Patty Mother's Day Gift
Maybe mom loves mint and chocolate? Then make her these peppermint patty candies. Turns out it is pretty easy to do.
43. Mother's Day Cookie Dough Truffles
What is more indulgent than truffles? Make mom these decadent cookie dough truffles! This is great especially if mom has a sweet tooth.
44. Mother's Day Red Velvet Cake Balls Treat
Mom will love these red velvet cake balls! They're sweet, chocolatey, cakey, with a hint of cream cheese. Perfect!
45. Hot Chocolate Bomb Mother's Day Gifts
Is your mom not a fan of tea or coffee? Then she will love these delicious and pretty hot chocolate bombs.
46. Salted Marshmallows For Mother's Day
Make mom some salted marshmallows to go with her hot chocolate bomb! Nothing goes better than hot chocolate and marshmallows.
47. Chocolate Dipped Tuxedo Oreos
Does mom like chocolate? Then make her some of these deliciously easy chocolate dipped tuxedo Oreos.
Mothers Day DIY Gifts: Accessories
48. Ribbon Flower Headband For Mother's Day Gift
Make mom something beautiful! This ribbon flower headband is a great gift for mom!
49. Mother's Day Braided Bracelet Craft
Use string and ribbon to make beautiful braided bracelets for mom. Give her something lovely to accessorize with. This would make such a sweet keepsake.
50. Mother's Day Necklace Craft
Make mom a beautiful necklace to go with her new bracelets! This is one of the best mother's day gifts. They double as keepsakes. Love these creative ways to make amazing mother's day gift.
Related: Make a fairy necklace for mom
51. DIY Perfume For Mother's Day
Make mom this easy perfume. It smells so good and only takes a couple of ingredients. You can use mom's favorite scent.
More DIY Gifts For Mom From Kids Activities Blog
Still looking for more ideas for DIY gifts for Mom on Mother's Day? These DIY mother's day gifts are a fun way to show mom you love her. It is a great way to show mom you appreciate. Plus, who doesn't love a handmade gift? Check out these crafts and recipes:
What are you making mom for Mothers Day? What is your favorite kid made Mothers Day gift?