14 Ways to Recycle Old Magazines Into New Crafts
These easy crafts with old magazines are a great way to use old magazines in different ways. These are such fun art projects for kids. Each of these recycling projects for kids not only teach kids to make the cutest things, but allows them to see how awesome recycling is!
Fun Crafts With Old Magazines
Today we are transforming your old reading material, that stack of magazines sitting on your coffee table, into fun crafts and art projects!
If you're like me, you feel bad throwing away all the glossy magazines you've already read, even dropping them in the recycling bin gives me a little heart ache. All those magazine subscriptions , old newspapers, the free magazines you picked up in the waiting room of the doctor's office and even the National Geographic I mean after all, there's tons of ways to create crafts with magazines. So stop hoarding and give those old magazine pages a second life.
Related: More easy 5 minute crafts for kids
Plus, it's nice to reuse and recycle things we have around the house. It's a great way to go green! Now, what to do with old magazines?
Cool Crafts From Old Magazines
Looking for some different ideas to create recycled crafts? Below are 14 of our favorite ways to recycle magazine pages into fun craft projects and beautiful pieces of magazine art with a little imagination.
There are several creative ways to make crafts and magazine art giving new life to old pages. Grab the magazine collection stack from the living room and let's get crafting.
1. Pretend Cookie Tray
This pretend cookie tray is the cutest! It's not only a great way to reuse a magazine, but a great way to play pretend as well. This is a great choice when the theme of the magazine is baking and cooking. You could also adapt old textbooks and good condition magazines into play and display items inspired by this genius upcycle.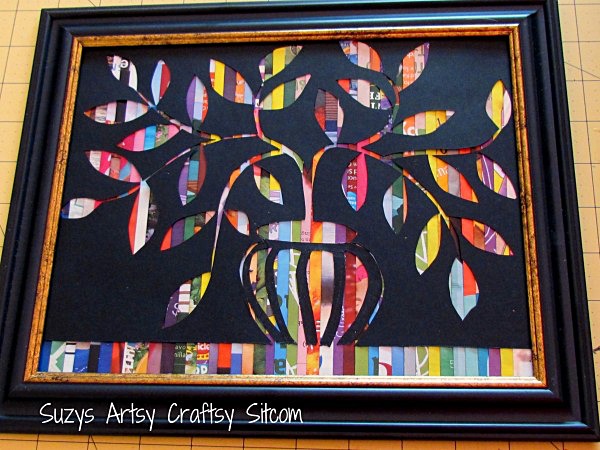 2. Magazine Strip Art
Who would of thought creating magazine strip art could look so elegant from a pile of strips of magazine pages! I'm definitely going to try this with strips of magazines that I pull from the recycle bin. I love the various colors and this works for even junk mail.
3. Fall Magazine Tree Craft
This is such a cute craft for kids. This fall magazine tree is a great way to create a fall craft for kids that utilizes lots of pretty fall colors like yellows, oranges, reds. It is also a great 5 minute craft for kids if you're short on time but have a lot of old magazines.
4. DIY Magazine Wreath
This is one of my favorites. This magazine wreath looks like something you'd spend quite a bit of money on at the store. But the greatest part is you can make it for free with the simple step guide and a bunch of glossy paper.
5. Magazine Ornaments You Can Make
I LOVE homemade ornaments. These magazine ornaments are a perfect way to recycle magazines, old wrapping paper and even saved perfume samples. Creating holiday ornaments through simple steps makes it a great craft for kids. You can hand these out as gifts to all your family members.
6. Easy Magazine Flowers Craft
These are so cute! These easy magazine flowers almost remind me of pinwheels. The easy paper flowers are a great craft for kids. The only thing beside a lot of magazines you will need are some pipe cleaners and hole punch.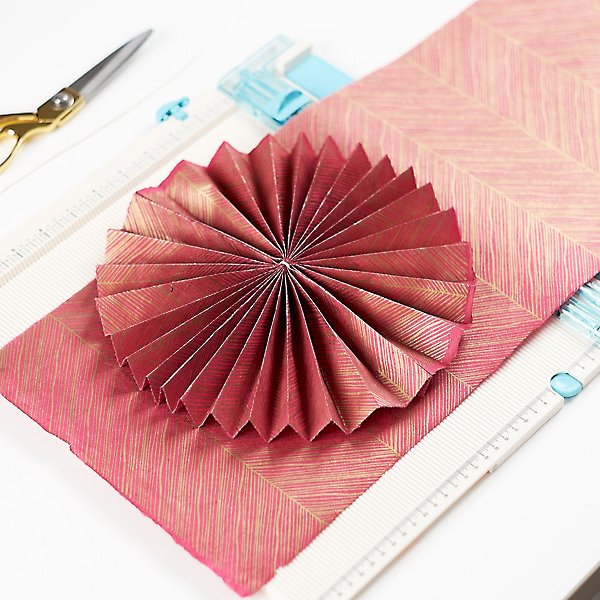 7. Make a Paper Rosette from Magazines
How adorable are these magazine paper rosettes? They're so beautiful and elegant! They're so beautiful, elegant and the best thing for decor, to put on top of gifts, to use as garland, ornaments, the ideas are endless.
8. Homemade Cards Crafted from Magazine Pages
Um, where has this been all my life? I love making homemade cards in my free time and this could really be a game changer. The magazine paper is transformed into a fancy card that looks like something you'd buy.
9. Cut Out Magazine Funny Faces
This is a great and silly craft for kids. You cut out different parts of the face to create cut out funny faces! It really does look silly.
10. Craft Paper Dolls from Magazines
Do you remember playing with paper dolls growing up? They were one of may favorite things. Now you can make your own. This is one of my favorite magazine craft ideas.
Some of the classics I've seen around are:
11. Magazine Collages Make Gorgeous Art
Making a collage is a fun way to spark creativity and create a one of a kind keepsake.
Give your kids a piece of 8.5″ x 11″ card stock or construction paper and some glue. Ask them to pick a theme for their collage.
Using that theme, have them go through stacks of magazines and cut out pictures for their project. For example, if Tom wants his collage to be about dogs, have him find pictures of different dogs, dog food, bowls, a park, fire hydrants, dog houses, etc.
They can be as creative or inventive as they like. Once their pictures are cut out, have them glue them all over the construction paper, overlapping if they like.
12. New Magazine Issue Decoupage
Pictures cut from magazines are great for decoupage and paper mache projects:
First, to create your own decoupage medium, mix together equal parts of white glue and water.
Use a paint brush to combine, adding more glue or water if needed to make it to a milky, paintable solution.
Use a paint brush to apply decoupage to empty vegetable cans, pieces of scrap wood, or empty glass jars.
Lay your picture on the decoupaged area, then paint a layer of decoupage on top of the picture.
Use the paint brush to smooth out the piece and get rid of any bubbles or lines.
Check out super easy magazine bowls tutorial made with paper mache for kids.
13. Magazine Beads Make Paper Beads
Making magazine beads is lots of fun and they can be very colorful and unique!
The homemade paper beads are time consuming and best suited for children that are elementary aged and up.
You can make beads of all sizes and all you need are strips cut from magazine pages, a dowel or straw to wrap them around and some glue to secure them.
Sealer is a good idea to protect your hard work, so instead of glue you can always opt for a decoupage medium such as Mod Podge, which acts as a glue and sealer.
14. Glossy Paper Mosaics Turn Magazines into Art
You don't have to stick with pictures, but pick colors instead.
For example, find a picture of grass for "green" and a picture of the sky for "blue". Cut or tear the sky and grass into smaller pieces to make your own colorful designs.
Use these smaller pieces to create fun mosaic designs. You can cut colorful pages into squares or simply tear them into chunks, then glue them into a design on a piece of construction paper.
Make a fun sunflower by cutting or tearing up pieces yellow and pasting them onto your paper to create petals.
Use brown scraps for the center of the flower and green for the stems and leaves. Be even more thorough and use blue and white to fill in the sky and clouds for the background of your creation.
Looking For More Ways To Recycle? Check Out These Recycled Crafts From Kids Activities Blog:
What is your favorite way to use magazines from this list of what to do with old magazines? What are your favorite magazine crafts?