Who's excited for spring? I know I am! We're getting ready to make lots of fun spring crafts to welcome the season.
If you love all things rainbows, birds, and flowers, you're going to love these ideas! We have well over 100 spring crafts for you to choose from.
Spring Crafts For Kids
There are so many different spring art projects to choose from, and the best part you can find something for most kids.
Many of these spring craft ideas are great for toddlers and preschoolers, but some are more suited towards Kindergarten kids and up!
Some Art Supplies Needed For These Fun Spring Crafts
After a long dreary winter, spring is bright, cheery, and a nice change. So to fully embrace it you'll want to grab all your art supplies! Running low on crafting supplies? Don't worry, we can help! This post contains affiliate links.
Some art supplies you'll need:
You may require more, but a lot of them will require at least some of these.
Finding Springtime Crafts A Little Easier
We have gathered over 100 crafts, so to maneuver through the list a little easier we broke it up into sections!
Just look for these or you can always use the control+f and type in the header to find it more quickly.
Spring Flower Crafts
Spring Nature Crafts
Spring Craft
Spring Animal Crafts
Easter Crafts
Early Spring Crafts
Spring Activities
Spring Printables
Spring Learning
Spring Playdough
Spring Science Experiments
Spring Sensory Bin
Spring Flower Crafts
1. Flower Weaving
How cute is this flower weaving craft? Not only do you get to make a pretty flower, but you get to practice a skill many of us have long forgotten, and it turns out super cute in the end. Love it.
2. Flower Shoes
Renew your favorite flats for spring! Add flowers and ribbons to make the cutest flower shoes. These are so precious.
3. Decoupage For Kids
I love this decoupage for kids. Let them decorate flower pots using this awesome idea. That way your flower pots look just as beautiful as the things planted in them.
4. Simple Pipe Cleaner Flowers
Make flowers of all the colors with these simple pipe cleaner flowers! Any loose ends on the flowers can easily be trimmed or twisted up.
5. Flower Pot Craft
Make your flower pots just as beautiful as the flowers growing in them! This flower pot craft uses tissue paper to make is super colorful.
6. Spring Painting Ideas
Run to the Dollar Tree and grab some satin flowers to try these spring painting ideas.
7. Beautiful Flower Painting
Save that plastic lid and toilet paper roll! Why? Because you can use them to make a beautiful flower painting! I love spring crafts that let us recycle and reuse things around the house.
8. Tissue Paper Flowers
Tissue paper is one of the greatest crafting items. There are so many things you can do it with, including making some very lovely tissue paper flowers.
9.Easy Spring Crafts
Looking for more easy spring crafts? We have them! Like this flower painted using a potato! The flower is based on the one from The Tiny Seed by Eric Carue.
10. Spring Flower Crafts
Save some cardboard and an egg carton to make these spring flower crafts. Add a big green straw and paint the petals to look bright and cheery.
11. Daffodil Painting
Daffodils are so cheery! And this daffodil painting is no different. It is bright, yellow, and even has some 3D features.
12. Paper Flower Box
Using scrap book paper, a cardboard box, glue, hole punches, and scissors you can make this super pretty paper flower box. It makes a very nice spring decoration for any room.
13. Flower Pot Kids Keepsake
Keepsakes are the best! I love looking back at them and seeing how much my child is grown. This flower pot kids keepsake is no different. There hand print becomes the stem of very pretty flowers.
14. Flower Craft Preschool Kids Can Do
I never understood the point of paper doilies, but this is a great use for them. You can turn them into super easy and lovely flowers! This is an easy flower craft preschool kids can do as well as kindergarteners.
15. Cupcake Liner Flowers
Cupcake liners are more useful than just in the kitchen. Turns out they make a great crafting tool as you can see in this cupcake liner flowers craft.
16. Flower Crafts For Toddlers
Same for these flower crafts for toddlers. Use cupcake liners, glue, and sparkles to make beautiful flowers.
17. DIY Spring Flowers
Try out all these DIY spring flower crafts! Some are more realistic than others, but they're all really amazing.
18. Paper Flower Vase
Wow! Look how cute this 3D paper flower vase is! The flower is 3D and the paper vase is colorful and pretty.
19. Spring Flower Craft Ideas
Recycle a plastic bottle and an egg carton to make this super cute flower decoration. This is one of my favorite spring flower craft ideas because it is cute, but it allows us to upcycle things in our home.
20. Egg Carton Flowers
Speaking of egg carton flowers, you can use egg cartons as stamps to make pretty spring flower!
21. Button Flowers
Make button flowers using buttons of course, but also scraps of cloth! This is a great way to use up sewing scraps or old clothes.
22. Daffodil Pinwheel Craft
Pinwheels have always been a favorite of mine, even when I was a child. I'm excited to share the same excitement I get from pinwheels with my children with this awesome daffodil pinwheel craft.
23. Springtime Art
Springtime art can be made with anything, that includes forks! Yes, forks. The fork replaces the paint brush in this spring craft to make pretty and colorful flowers.
24. Spring Projects For Kids
Looking for more spring projects for kids? These projects not only allow kids to craft, but also work on fine motor skills. Make 3D flowers, a flower picture frame, as well as sparkly flowers!
25. Stick Flower
Popsicle sticks would not be my first guess when I think of making flowers, but with paint, popsicle sticks, pom poms, and glue, you can make a really cute stick flower.
26. Daisy Chain Headpiece
I used to do this as a child! It was one of my favorite things to do at recess when I was in school waaaay back in the day. This daisy chain headpiece brings back memories!
27. Egg Carton Garden
Save your egg cartons, leftover paper grass, and straws to make this colorful egg carton garden.
28. Spring Flower Craft Ideas
This is one of my favorite spring flower craft ideas, I have a lot of favorites… But it is the sweetest keepsake! The kids make the flower out of their hands and the middle has their picture in it!
29. Tissue Paper Flowers
Tissue paper flowers are so easy to make and they're so delicate and colorful, I like them a lot!
30. How To Make Paper Flowers For Kids
Ever want to know how to make paper flowers for kids? It's not hard, and the best part is, this is a mess free spring craft.
31. PreK Flower Craft
Need a craft for preschoolers and toddlers? This PreK flower craft is perfect! It is very simple and uses construction paper and cupcake liners.
32. Paper Plate Flowers
This would also make a great spring craft for toddlers and preschool kids. These paper plate flowers are so easy to make and you can add so many things to them like beans, cupcake liners, twine, and more.
33. Flowers For Kids
Want to make more flowers for kids? These origami flowers are so cute and easy to make. All you need is pink and green paper and to follow the instructions carefully. This is much more suited to older kids.
34. Watercolor Flowers
You use water colors to paint a piece of paper, BUT, you use a white crayon and laundry basket to make the flowers. Sounds weird, but these watercolor flowers are really cool.
35. Children's Flower Necklace
My daughters love jewelry and they loved these children's flower necklaces as well. They used them to play dress up, wore them when we went to the store, or when they went to school.
36. Handprint Sunflower
Forget finger printing, we're painting with out entire hand! These handprint flowers are super cute. Your handprints are the petals and you can even glue sunflower seeds in the middle to make it look realistic!
Spring Nature Crafts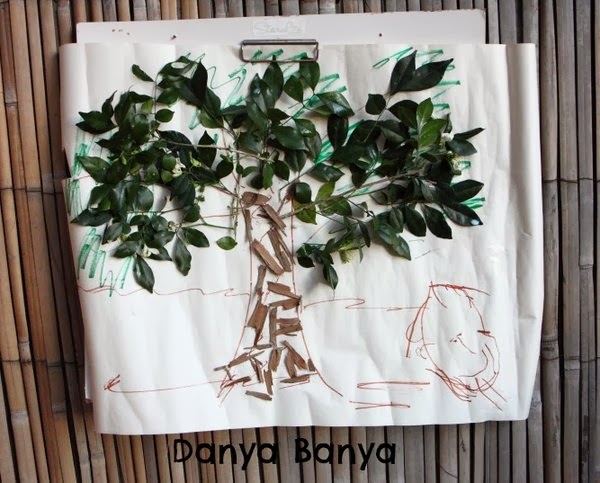 37. Nature Tree Collage
Grab stuff outside like cedar chips, sticks, twigs, leaves, and bark to make this awesome nature tree collage. 
38. Spring Painting
First off, this is definitely an outside craft unless you have a shower curtain to put down. Secondly, grab a spray bottle, paint, paper, and leaves from outside and watch as your child is able to make pretty art with the outlines of plants. Spring painting is easy for most small kids.
39. Butterfly Project
Run outside and grab some of the prettiest flowers you can find. You'll need them for this butterfly project. You decorate the butterfly with flower petals and flower stems.
40. Flower Garden
Get outside and start putting together this mini flower garden. While you do add cute foam flowers to your little garden, you do actually plant different things.
41. Flower Fairies
Make flower fairies using flowers, leaves, grass, and other things nature provides. These are actually super cute, I love this idea so much.
42. Nature Monster
Not a fan of fairies? That's fine, you can instead gather twigs to make these nature monsters instead!
43. Creating Art With Nature
Creating art with nature is super easy to do. All you have to do is go outside and gather flowers and plants and with glue and crayons you can make art.
44. Recycled Wall Art Project
Grab all the sticks you can! They need to be different lengths, kind of thin, so you can make this amazing recycled wall art project. It looks like a bird habitat honestly, and I'm all for it!
45. Tree Craft
Flowers tend to get all the attention in the spring, but trees can be just as lovely. They become green and vibrant and have their own flowers! This tree craft celebrates just that and also includes glitter which automatically makes it one of my favorites.
46. DIY Bird House
This DIY bird house may not be able to be used outdoors, but it could be used for pretend play and get preschoolers and toddlers more interested in nature. Maybe when they get bigger they  can make a real one.
47. Wind Catchers
You've heard of suncatchers, but what about wind catchers? These are so much fun to make, lets you enjoy nature, and celebrate all the wonderful things Spring gives us.
48. Nature Crafts
Grab all the flora to create over 100 different nature crafts. From nature art, masks, decorations, there is something for everyone.
49. Nature Painting
Do some nature painting by painting leaf strings and stones. I never though about crafting with leaf strings, this is such a good idea.
50. Nature Art Project
Nature weaving is the name of this nature art project. It actually looks very cool and the end results are very pretty.
51. Nature Mobile
Make a nature mobile with sticks, strings, and other plants. Flowers and herbs would make your mobile smell amazing.
Spring Animal Crafts
52. Easter Chick Craft
Grab construction paper, glue, markers, and paint to make this Easter chick craft. It's actually super cute using your child's hand as wings, and your child's footprints as the feet.
53. Chick Box 
What in the world is a chick box? Well, it's actually super cute. You make a sweet baby chick and then put it on top of a small gift box!
54. Felt Easter Eggs
Felt Easter eggs may sound a little weird, but once you see how you can turn them into cute little Easter chicks I'm sure you will change your mind.
55. Peacock Feather Craft
I think this is my favorite animal craft. Look how pretty this peacock feather craft is! It is blue, green, and most importantly, sparkly!
56. Bunny Cone
A bunny cone is a bunny made from a pine cone! I always see pine cones sold at the craft store, but never knew what to do with them. Now I do and it is adorable!
57. Sheep Mask
Bunnies, sheep, chicks, birds, those are all iconic spring animals. Now you can enjoy some pretend play after you make this adorable sheep mask.
58. Baby Chick Craft
Make this baby chick craft using simple items like: cotton balls, egg cartons, construction paper, wiggly eyes, and glue.
59. Bunny Craft
I would have never considered using Q-Tips to make this super bunny craft, but it looks amazing! The bunny looks so fluffy!
60. Parrot Craft
Embrace all the colors with this super bright parrot craft! You only need a handful of crafting supplies to making this beautiful parrot.
61. Fun Spring Crafts
Want more fun spring crafts? Then you'll love these upcycled bee and ladybug crafts! They're so cute and great for any child who loves nature.
62.Caterpillar Paint Craft
This caterpillar paint craft is based on the story The Very Hungry Caterpillar. But it is still cute nonetheless and actually painted with sponges!
63.Sheep Made Out Of Cotton Balls
How cute are these sheep made out of cotton balls? They aren't JUST made out of cotton balls, but your handprint (turned upside down) gives them adorable little legs.
64. Paper Mache Lady Bug
You don't see too many paper mache crafts anymore and that is a shame. Paper mache is such a great crating technique. Like this paper mache lady bug, it is amazing!
65. How To Make A Giant Butterfly
Want to know how to make a giant butterfly? It's actually super easy! The way you decorate them is actually super clever and keeps most of it symmetrical. 
66. Butterfly Craft For Kids
Paper plates, tissue paper, glue, pipe cleaners, and glitter is all you need to make this bright and shiny butterfly craft for kids. I think the sparkles really pull it all together.
67. Cool Spring Crafts
Cool spring crafts don't have to be elaborate or hard! You can easily use a potato, paint, and feathers, to make this super easy spring chick!
68. Hungry Caterpillar Craft
Does your child love the book The Very Hungry Caterpillar? Then they'll love making this Hungry Caterpillar craft!
69. Hungry Caterpillar Macaroni Necklace
Make your own accessories like this Hungry Caterpillar macaroni necklace! It's actually super simple to make.
70. Cute Baby Birds
Want to make some cute baby birds along with a mama bird in their nest? Now you can! This is the sweetest little craft.
71. Bunny Craft
Paper plates, pom poms, googly eyes, glue, and cotton balls is all you will need for this bunny craft. This bunny craft is perfect for toddlers and preschoolers.
72. How To Make A Bird Out Of Pipe Cleaners
Make your pencils fabulous by adding these bird pencil toppers! Artsy Craftsy Mom can show you how to make a bird out of pipe cleaners. Don't forget the feathers!
73. Sheep Crafts
Love sheep? Great! Here are a number of sheep crafts made from cotton balls, paper, paint. Some are 2D, some are 3D, and some are masks.
74. The Very Hungry Caterpillar Art
We have another Very Hungry Caterpillar art project! I love that this iconic children's book is so popular and Simply Today Life had the great idea of creating the caterpillar with paint and sponges.
75.Old Tissue Box Crafts
Instead of throwing your empty tissue box into the recycling turn it into a bunny box! These old tissue box crafts allow it to be remade into a work of art!
76. Chicken Craft Preschool Kids Can Make
Move over paintbrushes! We will be doing this chicken craft preschool kids can easily make with loofahs!
77. Bird Suncatcher
Look how precious this bird suncatcher is! It's a tree with birds and feathers! What a sweet little spring craft.
78. Cardboard Bunny Craft
Save that toilet paper roll! You'll need it with this adorable cardboard bunny craft! Look at the fuzzy fluffy ears!
79. Cute Butterfly Craft
This cute butterfly craft is super easy to make and I daresay even little kids will have a fun time making it! The wings remind me of tie dye.
80. There Was An Old Lady Who Swallowed A Chick
Another craft based on a book, but this one is based on "There Was An Old Lady Who Swallowed A Chick." You get to make the chick the old lady swallows. Which sounds morbid, but the craft is cute.
81. Tissue Paper Butterfly Craft
Another great craft using tissue paper. This tissue paper butterfly craft is so cute. It's colorful and sparkly!
82. Cotton Ball Crafts
Cotton ball crafts always turn out the best. They give each piece of art a soft and fluffy look and that is no different in this bunny craft!
83. Crepe Paper Craft
I forgot crepe paper was a thing, but I'm glad this crepe paper craft reminded me. Look how vibrant the birds "feathers" are!
84. Paper Chicks Easter Craft
Love Easter chicks? Then you'll love this paper chicks Easter craft. All you need is construction paper, paper plates, paints, glue, and googly eyes! It looks like Easter chicks are hatching from big Easter eggs.
85. Spring Chick Craft
Spring chicks are everywhere in spring and now you can make your own with this spring chick craft! It's even fuzzy and fluffy thanks to all the feathers.
86. Butterfly Crafts For Kids
Have a child obsessed with butterflies? Then you'll love these butterfly crafts for kids. They're easy! All you need is: paint, toilet paper rolls, cupcake liners, and pipe cleaners.
Spring Crafts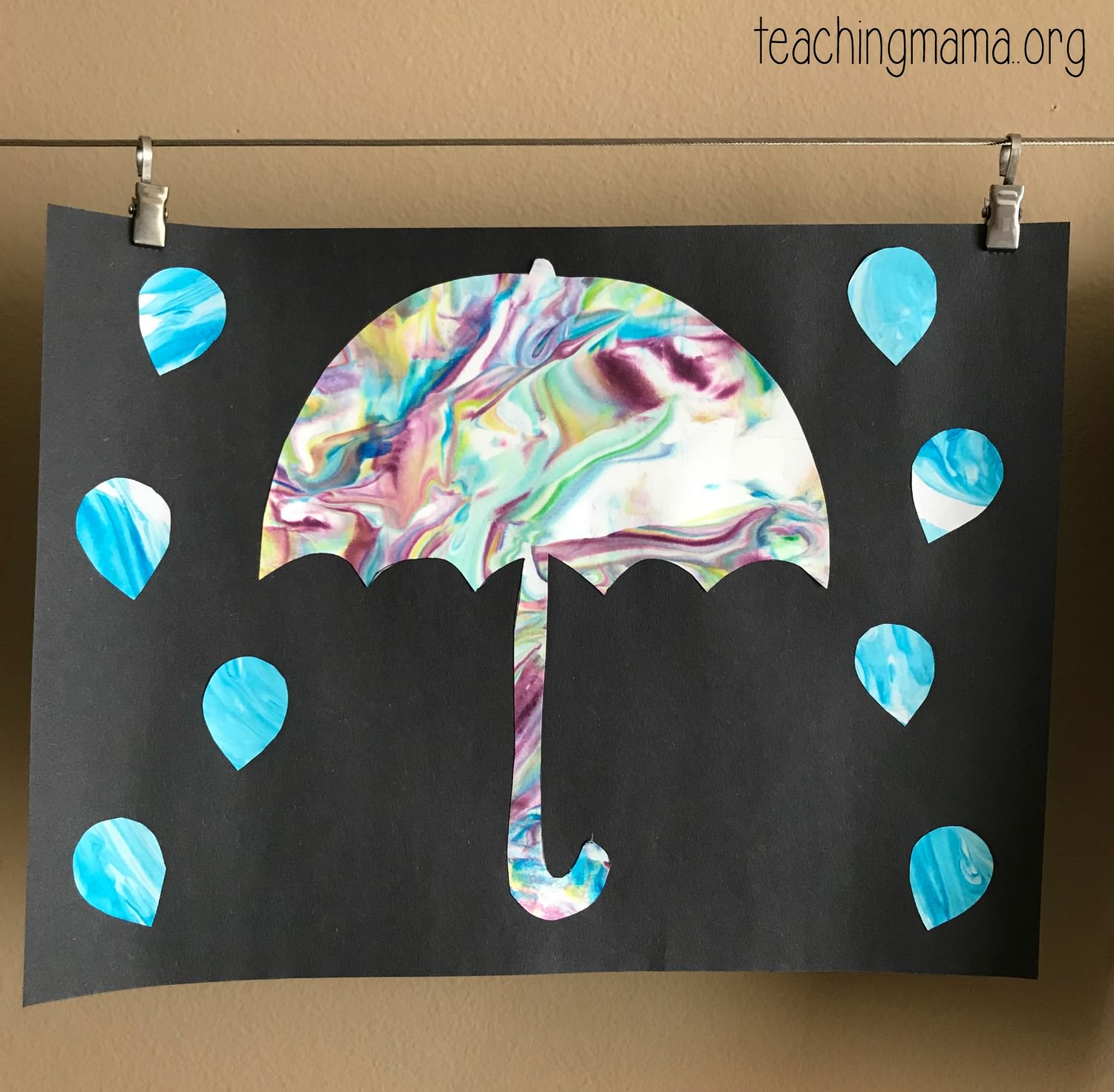 87. Umbrella Craft
Remember that old saying "April showers bring May flowers" sometimes that statement is very true. When the rain is pouring down and your child is bored stuck inside, this umbrella craft is perfect!
88. Fly Swatter Painting
What a cute way to get outside and have fun! Line up some paper, have some paint ready, and use a fly swatter to do some fly swatter painting. It's fun, it is messy, and the end result is a colorful mural.
89. Spring Crafts For Toddlers
Does your child love Easter chicks? Rainbows? The Easter bunny? Flowers? Basically all things spring? Great! There are quite a few spring crafts for toddlers to choose from!
90. Stained Glass Butterfly
Because I love butterflies so much I had to include this one. Look at how beautiful this stained glass butterfly is! It is also easy to make which is a win-win.
91. Spring Mobile
First thing many people like about spring is the warm weather. I like the rain the most which is why this spring mobile is one of my favorite spring crafts for kids. It has raindrops!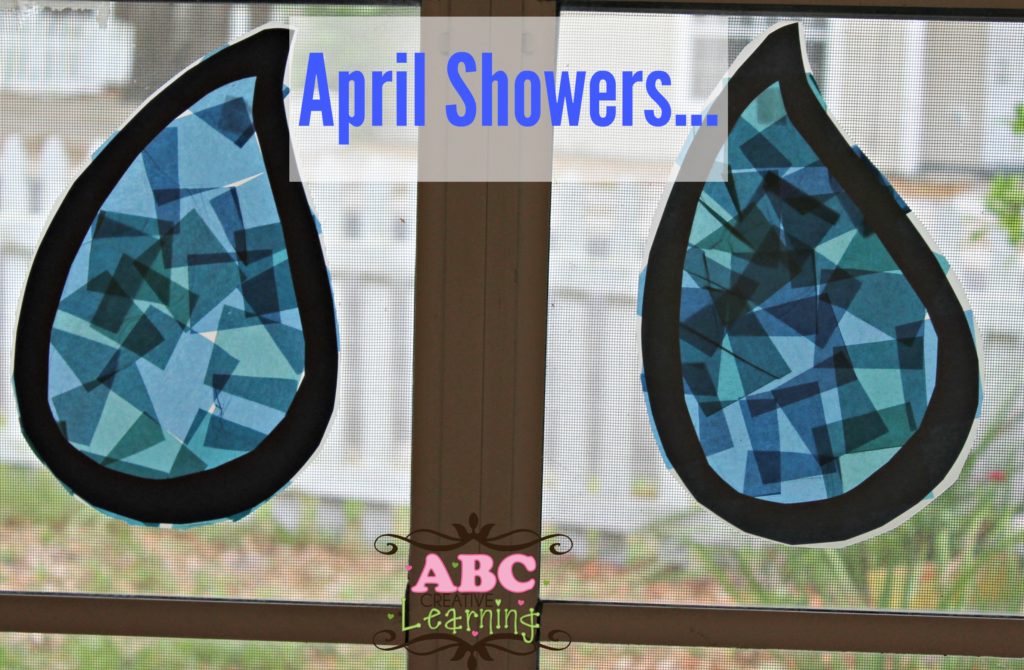 92. April Showers Crafts For Toddlers
Embrace all aspect of spring, including April showers! You can do that with these April showers crafts for toddlers. You'll be making a raindrop suncatcher!
93. Spring Wreath
Grab your paints and let your child make a number of vibrant paintings, because you'll be using their art to make this accordion spring wreath.
94. Earth Paper Plate Craft
Celebrate Earth day with this earth paper plate craft. It's super cute, easy to make, and you get to use puffy paint!
95. Suncatchers For Kids
Suncatchers are actually easy to make and there are a number of crafts geared to making suncatchers for kids. One of my favorites is this melted bead suncatcher. You can make any image and when melted it becomes sheer letting the sun to shine through.
96. How To Make A Hat Out Of Paper
You don't need to buy a sun hat. Learn how to make a hat out of paper. You can even decorate it with paper flowers! How awesome is this!
97. Beehive Painting
Use bubble wrap to make this textured beehive painting. This is a seriously cool idea!
98. Spring Paint Craft
Break out all of your favorite spring colors (think bright colors and pastels) because this spring paint craft is awesome. Oh, and you may also want to take this outside as you'll be painting with bubbles!
99. Colorful Trees
Trees get overlooked in the spring and they have so many vibrant colors from the leaves, plants, nuts, and flowers. Now you can make your own colorful trees.
100. Kite Crafts
Spring brings warm breezy days, perfect for flying a kite! If you love kites, then check out these kite crafts.
101. PreK Spring Crafts
Need spring crafts for smaller kids? No worries! There are plenty of PreK spring crafts to choose from. Like making flowers, birds, keepsakes, kites, suncatchers, and more.
102. Rain Painting
I love this! You'll definitely want to do this outside or put a shower curtain down, but create a rain painting with rainbow cotton balls and spray color and glue all over the canvas!
Easter Crafts
103. Cross Crafts For Preschoolers
While some people celebrate Easter with the Easter Bunny, others celebrate with Jesus and this cross craft for preschoolers is the perfect craft to do just that.
104. Washi Tape Easter Garland
Use washi tape to decorate Easter eggs. You can use different colors and designs. Then grab some string and turn it into Easter Garland!
105. Salt Dough Eggs
Keepsakes are one of my favorite things. I like looking at them and remembering how little my babies were. Which is why these salt dough eggs are so precious.
106. Easter Eggs
Your toddler will love making these textured Easter eggs. Decorate them with colorful sand, feathers, buttons, pom poms, and more!
107. Shell Art
When you're done with those Easter Eggs don't throw them out just yet. Because you can use the shells to create this amazing shell art!
108. Plastic Easter Egg Crafts
Help the Easter bunny out! Decorate the eggs to look like Easter animals with these plastic Easter egg crafts. That way the Easter bunny can fill them up and hide them!
109. Easter Sponge Painting
Make color and pretty Easter eggs with sponges and paint! This Easter sponge painting is a great spring craft for toddlers and preschoolers.
110. Easter Cards
Make your own Easter cards that look like Easter chicks! They even have feathery wings, how cute!
111. Polka Dot Bunny Garland
Decorate this Easter with this polka dot bunny garland. It is super easy to make and even cuter to look at.
112. Easter Handprint Craft
Use your hands to make this Easter handprint Craft. Don't forget to download the free prayer printable to add to your work of art along with a cross.
113. Easter Ornaments
I would have never thought about making Easter ornaments, but these are seriously cute. They're colorful, 3D paper eggs with pink string, and beads!
114. Sand Art Easter Eggs
I'm glad sand art is making a comeback. Now you can make these sand art Easter eggs using rainbow colored sand.
115. Easter Egg Stamps
Potatoes aren't just for eating. Nope! They can be used to make Easter egg stamps! How cool!
116. Melted Crayon Easter Eggs
Painting Easter eggs the same way each year can get boring. Mix it up by making these melted crayon Easter eggs. It is a great way to use old broken crayons.
117. Carrot Napkin Ring
Having guests for dinner on Easter? Impress them with these DIY carrot napkin rings. 
Early Spring Crafts For Kids
118. Yarn Rainbow Craft
Yarn, markers, cardboard, glue, and cotton balls make a great yarn rainbow craft. Plus it works on your child's fine motor skills as well.
119. St. Patrick's Day Crafts
I suppose we can include these since Spring technically starts in March. So embrace these fun St. Patrick's day crafts. You'll be making rainbows, pots of gold, and Leprechauns! 
120. 3D Art Projects
I haven't seen a lot of 3D art projects, but I love this! Make a 3D rainbow, with fluffy clouds, and gold!
121. How To Make A Shamrock
Want to know how to make a shamrock? There are actually several ways to make one!
122. Rainbow Stained Glass
Try making this pretty rainbow stained glass! All you need is contact paper, construction paper, and tissue paper!
123. Paper Plate Rainbow Craft
This paper plate rainbow craft is super easy to make. This craft would be great for toddlers, preschoolers, and kindergarten kids.
124. Simple Tree Painting
First, this one could have gone in a few different categories, but since it was rainbow I thought it would be best here. However, this simple tree painting is not only very colorful, but super fun to make.
125. Puffy Paint Rainbow
Puffy paint! This stuff used to be so popular. But now, you can use it to make a puffy paint rainbow!
126. Popsicle Stick Treasure Box
No, it isn't a pirate treasure box, rather, it is a Leprechaun popsicle stick treasure box. It is full of shamrocks, rainbows, and sparkles!
127. Paper Plate Rainbow Craft For Kids
This paper plate rainbow craft for kids was based on an AWANA cubbies class. In case you don't know what that is, it is a Christian church club. It is a lot of fun.
Spring Activities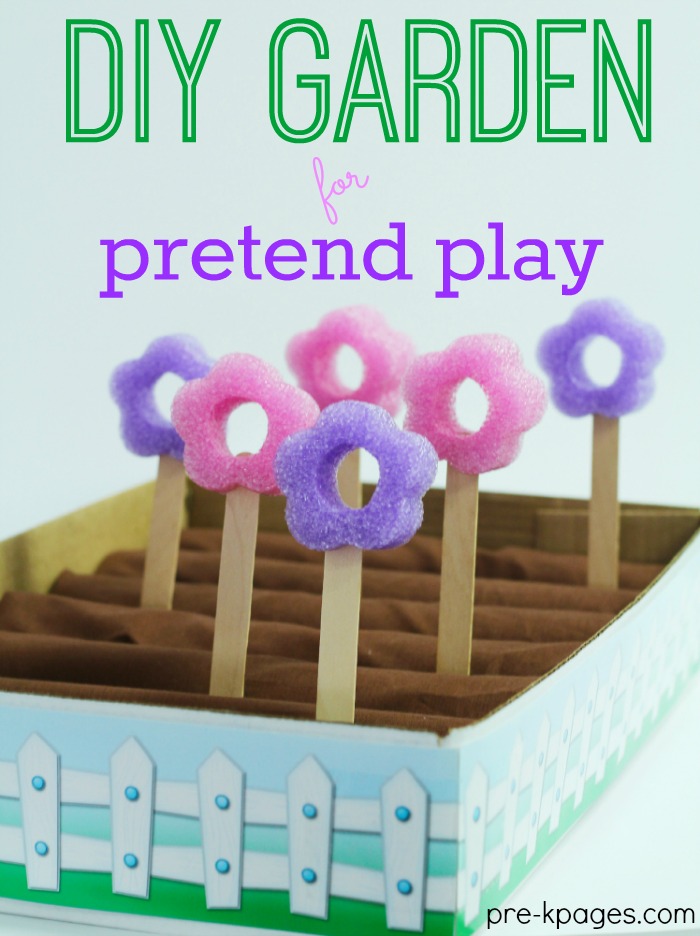 128. Play Garden
Promote pretend play with this play garden. So, all you will need is some: contoured pool noodles, bread knife, measuring tape, glue gun, box, craft sticks, brown fabric, and tape!
129. Rainbow Activities For Toddlers
Looking for some rainbow activities for toddlers? Try out this multi-sensory approach in teaching your child the rainbow through: touch, scent, and taste, and hearing.
130. Spring Puzzle
Peeps are definitely a spring (and winter) treat. While they're tasty, did you know they can be fun? Use paint chips to make these super cool Peeps shaped spring puzzles.
131. Rainbow Friendship Bracelet
Rainbows and budding friendships definitely say spring to me, though those things can happen anytime, I still think this is a great way to celebrate spring. These rainbow friendship bracelets are super colorful and actually pretty intricate.
132. Blue Bell Song
Play this traditional circle game to celebrate spring! You get to dance around with friends, build social skills, and learn a great new song: the Blue Bell song.
133. Planting Seeds
Make the world a better place and a work of art by planting seeds and growing some plants! 
134. Planting With Toddlers
I don't think you're ever too young to learn about gardening. That is why I love this planting with toddlers activity.
135. Flower Arranging
Get into the garden with your kids and do some flower arranging. Pick flowers and others plants to create beautiful bouquets. 
136. Grow Watercress In Pots
Did you know you can grow watercress in pots? Want to make your plants even better? Decorate the flower pot!
137. Window Gardening
Grab a window box and start window gardening! There is even free printables to label all of your plants, including a blank one to label.
138. Tulip Puzzle
Make your own tulip puzzle by making a construction paper flower and cutting it into pieces. You can even use these puzzles to spell out words too.
139. Spring Activities For Kids
Bust boredom with this list of fun activities. Write down the spring activities for kids, print them, cut them out, then place them in a jar so you always have something to do.
140. Spring Drawing For Kids
Keep your kids drawings by letting them draw on a shower curtain. This spring drawing for kids allows them to unleash their creativity and draw all the things they love about spring and you can showcase it to…well anyone who enters your bathroom.
Spring Printables
141. Spring Playdough Mat
Does your child love playdough? Then you'll definitely want these free spring playdough mats. Your child can use the playdough to match all the spring weather on each sheet.
142. Easter Bingo
Looking for some fun Easter activities? Then you'll want to grab this free Easter bingo printable! You can use candies as bingo markers.
143. Free Spring Printable
Grab this free spring printable and stick it to Mega Blocks to create the cutest spring puzzles.
144. Dot To Dot Printables
Enjoy these free dot to dot printables! The dot to dot printables include: a park work sheets, bird worksheets, flower worksheets, and butterfly worksheets. They're both colored and black and white.
145. Printable Bug Game
Play the bug game with your kids with this free printable. All you need is a couple dice, a wood block, some scissors, and glue and you're ready to play!
146. Free Printable Garden Stencils
These free printable garden stencils are actually for playdough! Promote pretend play with this free printable and let your child build a pretend garden.
Spring Learning
147. Spring Math
Make learning fun with this spring math! Each flower has an x amount of petals and your child will have to count the petals and write the number in the middle or vice verse, have a number in the middle and let your child add the petals.
148. Kite Glyph
While kids may think they're doing fun arts and crafts, they're actually learning math with this kite glyph. A glyph is a picture use to collect data.
149. Spring Lesson Plan For Preschoolers
Printables, sensory bins, crafts, worksheets, and more! We can help you with your spring lesson plan for preschoolers.
150. Spring Cutting Strips
Practice fine motor skills with these DIY spring cutting strips. Simply draw pictures on strips on construction paper then have your child cut them out with safety scissors. This is great for preschool kids and kindergarten kids.
151. Color Sorting Game
Wooden eggs and wooden flower pots are perfect for this color sorting game. All you have to do is paint each egg a color and then color one pot the same color and watch as your child tries to match them up! Such a good idea.
Spring Playdough
152. Playdough Bugs
So….something about spring most of us forget about is all the bugs that come back. But since it is part of spring we should embrace them too. And now you can with this fun playdough bugs activity.
153. Peeps Slime Recipe
Use peeps slime recipe to make sticky gooey slime! You can make it different colors by using different colored Peeps, and this is technically edible, but it will be sweet as can be!
154. Salt Dough Crafts
Love salt dough crafts? Then you'll love these salt dough fingerprint flowers! They double as keepsakes!
155. Homemade Birds Nest
Use salt dough or playdough to create bird eggs for your homemade birds nest!
156. Spring Flower Playdough
Grab all the flowers from around your yard and let your little one touch and press them into playdough. Use a color playdough where the flowers will stand out most like black or white. This spring flower playdough activity doubles as sensory time.
157. Homemade Playdough
You'll love this spring homemade playdough. This is a really fun spring craft because it isn't just playdough play. Give your child flower pots, satin and plastic plants, and toy bugs, and butterflies and watch as they create a garden!
Spring Recipes
158. Flower Pot Dessert
So, since spring is here I for one end up buying more flower pots than needed (they were on sale). And this flower pot dessert is a great way to use them. First you'll need some silk flowers. Then fill them with cookies, pudding, and gummy worms!
159. Cute Bunny Cupcakes
Celebrate spring with these cute bunny cupcakes! They look fuzzy, have big eyes, a cute red nose, and long ears!
160. Butterfly Snacks
Making butterfly snacks is easy! There are several ways you can do it. All you need is: pretzels, raisins (or chocolate chips) and small pretzel sticks.
161. Cinnamon Chips
Cinnamon chips are so good. If you haven't had them then you're in for treat! Use cookie cutters to cut them out in the shape of chicks, duckies, rabbits, carrots, and more!
162. Healthy Easter Nests
Healthy doesn't have to be boring! Usually you see sweet Easter nests, but sometimes we need healthy foods in our lives, especially around a holiday bombarded with sweets. Carrots and cucumbers are what these healthy Easter nests are made of. 
163. Sweet Easter Nests
You've had healthy Easter nests, now it is time for sweet Easter nests. These delicious treats are crunchy, sweet, salty, and chocolatey! Yum!
Spring Science Experiments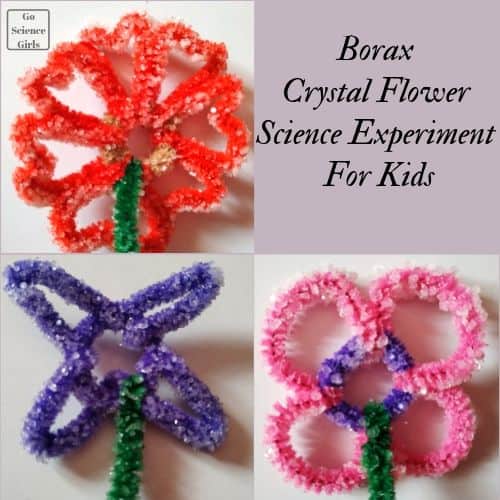 164. Crystal Flower
Spring is a great time to learn about science. Especially this crystal flowers! You can make pink flowers, red flowers, purple flowers, and more.
165. Butterfly Lifecycle
Learn the butterfly lifecycle with this printable and pasta. Pasta?! Yes, you'll need a couple different types of pasta to do this science project, but it is actually super cute and educational.
166. Wildflower Seed Bombs
Planting flowers in spring is a great way to bring more color to our world. Now you can help others do it easily by making these super simple wildflower seed bombs while simultaneously learning very important lessons about plant life, sensory integration, and more. 
167. Peeps Soap Boat
What in the world is a peep soap boat? Well, it's a peep boat powered by soap! I know it sound weird, but this spring science experiment is actually really cool.
168. Color Changing Flowers
Yay science! Flowers are all over during spring. They're pretty at as, but what if you could change their colors? This coloring changing flowers experiment allows you to do just that. 
Spring Sensory Bin
169. Spring Sensory Bin
Spring is such a wonderful season that many of us love to experience. But, what if your child is too young to really enjoy spring still? Then this spring sensory bin is perfect!
170. Spring And Easter Sensory Bin
Celebrate spring and Easter with this sensory bin! Touch paper grass, textured planters, eraser carrots, chicks, and bunnies, as well as fuzzy baby chicks, rocks, and more!
171. Spring Sensory Bag
Grab a plastic bag and fill it with water, water beads, leaves, and gems. Be sure to seal the bag strongly! These textures are all different and fun to feel and play with making this the perfect spring sensory bag.
172. Spring Sensory Tray
Use beans, colored rice, magnets, and paper butterflies, as well as foam flowers to create a fun spring sensory tray.
173. Spring Ice Ornaments
During those warm springs day, these spring ice ornaments can be fun! It's wet, cold, and as it melts you'll find all sorts of surprises.
174. Floating Flowers
Here is a simple sensory bin! All you need is water, food coloring, and flowers, leaves, and other flora! The floating flowers will start to feel different wet than they did dry.
175. Nature Sensory Board
Sensory boards are what I used for my child. Now that spring is here you can make this nature sensory board. Stick rocks on it, cones, bark, and more textured flora.
More Fun Spring Craft Ideas From Kids Activities Blog
We hope your preschool kids (and big kids!) love these springtime crafts! What is your favorite spring craft or activity? Comment below!