burbmom.net is proud to announce our very first contest!   Many more will be coming your way!
It is important to 'burb headquarters that burbmom.net is NOT kept a secret!   So important that we are willing to bribe you, give you free stuff provide you with wonderful gifts as an encouragement to tell your local friends about our site.   To do so – please go to our social networking site – burbmom.ning.com – and click on INVITE – send out your invitations and just let us do the rest of the work for you!
If you have not created a profile on the networking site – go there … NOW … it is a blast and you are missing out!
So – here are the contest details:
1. Contest is being held from Thursday, November 20th to Thursday, November 27th, 2008(Thanksgiving) at Midnight.
2. We will know who sent new members through our Profile Questions – make sure your friends know to enter your name there.   All members can participate – even the new ones who get here from the contest!   Bring it on, ladies!
3. Qualified entries will include: women in the DFW Metroplex who are moms.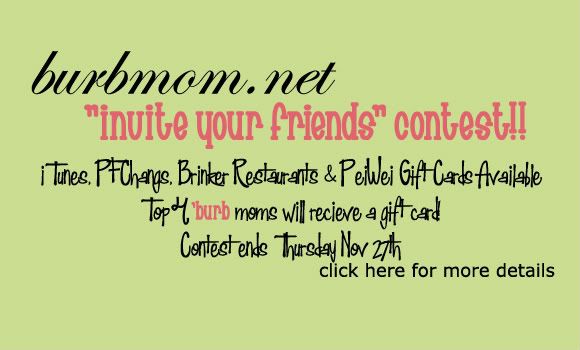 That is not to say that non-moms cannot enter the site – we love that actually – but for this contest purpose – only the moms will count.   ***If needed – we will go to their homes and make sure there are kids – so no cheating.   If no kids exist for these "moms," I will personally drop all three of mine off there.***
4. PRIZES Include – but are not limited to:
$15 iTunes Gift Card
$25 Brinker Gift Card (Chili's, On the Border, Maggiano's, Macaroni Grill)
$10 Pei Wei Gift Card
$10 PF Changs Gift Card
5. First prize Winner will choose their card of choice, second prize winner will choose from the remaining three – and so on… In the case of a tie – those members will participate in a tie-breaker…we will call it the "24-hour 'burb-Blitz."
6.   WINNERS will be announced on Friday, November 28th by NOON (the day before Shauna's birthday, in case you were wondering)