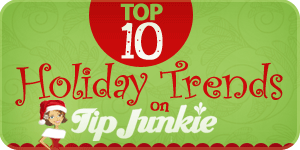 I am really excited to be participating today over at Tip Junkie's Top 10 Holiday Trends.
When my dear friend, Laurie, asked me to choose a topic, I was a bit stumped.
I am not particularly crafty.
I am not known for amazing holiday parties.
I barely get the Christmas tree decorated.
Then I remembered that I have three boys. And those three boys like toys. And those three boys put those toys on their Christmas List. And Santa needed a little help with editing that list because there was no way his sleigh could bring EVERYTHING.
All that good boy toy research is in my Tip Junkie guest post, Top 10 Hottest Toys for Boys:
Go!