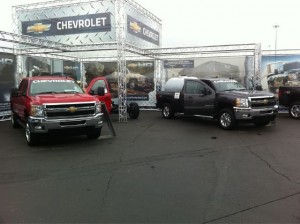 Going to the Texas State Fair was a tradition in my wife's family that she talks about every October. Ironically, we've known each other for more than ten years and this year was our first trip as a couple (with two kids in tow!) to visit Big Tex, the Midway, the auto show, the vendors, the livestock, and of course, Fletcher's Corny Dogs.
We used OnStar to get us to the gate ((Check back later for a video of this.)), and pulled in to park. For all the great things about the Silverado, one thing I'm still getting used to is driving a vehicle with such a long wheelbase. My Tahoe was the last vehicle I regularly drove with a long wheelbase, and I'm still getting used to the dimensions of the Silverado. After all, I don't want to return the beauty with a scratch on it!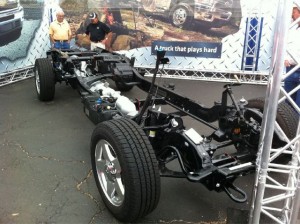 Many of the parking spaces in Texas are wide enough to accommodate a truck with its doors open, but the parking at Starplex ((I don't care what you call it, but I know it as Starplex!)) at Gate 10 certainly was not. Even still, we were able to get into the back seat without too much trouble and with zero dings to the car and truck next to us. I definitely could not open the back door all the way, but I was able to close the front door and had plenty of room to get the squids out.
Chevy was a BIG sponsor of the Fair. Right after walking through the gate, we were greeted to the Chevrolet Town Square, where we learned about child safety (do you know how long your squid needs to be in a booster? Or the back seat?), looked at more Silverados (look at those sexy vehicles!), and could test drive any number of Chevy vehicles.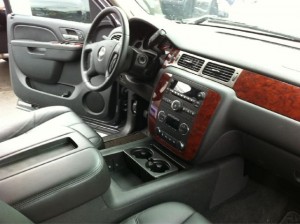 Just look at this interior! Our Silverado is not quite this nice, but only because we don't have the wood trim, leather seats, and that center console. This layout looks more like a Tahoe or Suburban than a pickup.
We spent a good thirty minutes at the Chevrolet Town Square before heading into other areas of the Fair.
We were a bit early to the gate to both avoid the crowds, and accommodate my work schedule. I was worried that we would be standing around, but with all the activities at the Town Square, we had plenty to do!
After that we walked through several exhibits and ultimately to the auto show! Looking at all those new cars was quite a bit of fun, and Chris is becoming partial to the Buick Enclave.
Soon it was time for lunch, and then time to head home! Payton LOVES turkey legs! While I was gnawing on mine, caveman style, she kept looking at me saying "Please? Bite? Please? Bite?" For a little squid, she sure did eat quite a bit of it!