I took Ryan(6) with me. Usually I vote while dragging all three boys with me so just taking Ryan seemed like a treat.
He was very interested in the process. We talked about the election and what was involved. I described how there were a lot of people in our country and quite a few wanted to be president. I spoke about what was on the ballot and how I was voting for people to help run our city, Texas and the country.
He closely watched me vote. He read the Spanish words on the ballot that he recognized. He helped me put my ballot in the machine. We watched the machine accept my ballot. He got a "I voted" sticker.
I was patting myself on the back for the beautiful learning experience that I had just provided my child. On the way home we continued the discussion. He then said,
When do we find out if you win?
Honey, I am not running for president of the United States.
Why not?
I already have a job.
Please mommy! Please, just think about it. I really want you to be president.
That is really sweet of you, but no, I am not running for president.
Don't you want to be president?
Well…yes, I guess, but right now I am busy.
I really want you to be president.
Then I should run later. I could run for president when you are older. I could run for president when you can vote for me.
I'm NOT going to vote for you!
What? Why aren't you going to vote for me?
Because I am going to vote for myself.
There you have it dear reader. The official slate for POTUS 2028: Holly vs. Ryan.
Don't tell anyone, but I am voting for myself as well…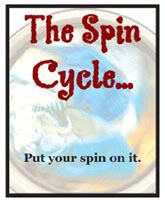 I am posting this for Spin Cycle over at Sprite's Keeper which I was introduced to through Stiletto Mom. Isn't blogland grand?